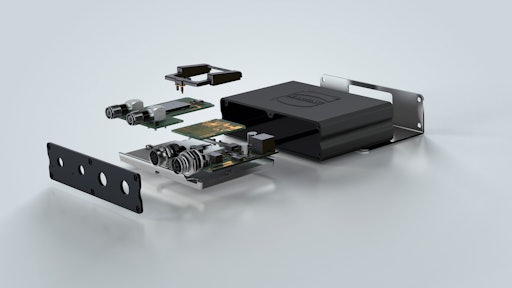 HARTING Inc.
The internet of things (IoT), and related industrial internet of things (IIoT), as well as Industry 4.0—also referred to as Digital Manufacturing, Manufacturing 4.0 and other terms—have become topics of interest for many manufacturers as technological advancements have brought about new opportunities to improve the manufacturing process. It has been reported the global Industry 4.0 market will reach a value of $214 billion by 2023. 
Sensors, machine connectivity, data and analytics, AI (artificial intelligence) and machine learning are among the various technologies enabling more information to be collected and shared within a manufacturing operation to help create more efficient operations and improve the quality of products. All of these aspects are helping to make systems smarter. According to a new study from Grand View Research, this so-called smart manufacturing market is estimated to reach $395.2 billion by 2025.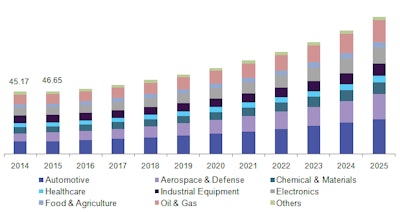 Richard Kelly, a partner at McKinsey & Co.—a global management consulting firm—said during his presentation on Industry 4.0 at an Association of Equipment Manufacturers (AEM) Thinking Forward event (see sidebar) that there are four main areas which encompass the disruptive technologies enabling Industry 4.0:
Analytics and intelligence
Human machine interaction
Digital-to-physical conversion
Data and connectivity
One of the key aspects he said when it comes to collecting and analyzing data is knowing how to get the most out of it. "If we don't convert it into proved insight…to make better decisions we don't really capture that value," he said. But as computing power becomes more powerful and variablized, more can be done with the data, and manufacturers can better determine how best to utilize it.
Handling vast amounts of data
Dr. Vivek Dave, Director of New Technology Development at HARTING Americas, said during a media event held by the company that edge computing represents the next step in the IoT and IIoT framework. As the number of connected devices continues to grow, there will need to be new methods for storing and analyzing the data these devices collect and transmit. "As you envision an IoT where there are 10s of billions of connected devices, you have to ask yourself 'Is it practical to send all this data to the cloud?'" he said. "Yes, we can keep building cloud resources, but there needs to be a focus on edge computing," and what can be done with the data locally.
"How can I process it locally, how can I create actionable knowledge right at the point where I'm collecting the data," he continued. "That really is the underpinning of this revolution, and why edge computing is necessary and of extreme interest to HARTING and its customers."
Edge computing consists of processing data that is localized to where the actual data collection is taking place, explains Pat Hogan, Senior Product Manager for the HARTING MICA, RFID, and Ethernet Switches at HARTING Americas. "Edge computing is opposed to cloud computing in that cloud computing processes data in off-site or distributed servers, where[as] edge computing processes the data at or near a machine, for example."
Hogan says local computing is the constraining of data collection and processing within a local network of devices, such as monitoring a set of machines connected to a single network at a factory. Edge computing, on the other hand, is the data collection and processing of a single machine in that factory. Cloud computing would then involve the processing of data of all the machines at several factories which are connected to different networks.
Because the volume of available data can be overwhelming, the ability to locally process it can be beneficial in enabling prompt analysis. "More devices means more data," says Hogan. "Edge computing allows for more immediate processing and filtering of the data before needing to send it back over broader infrastructures."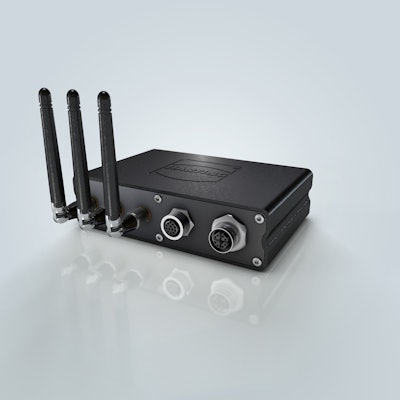 Not having to wait for the data to travel to the cloud and back is an integral aspect, and can be the difference between avoiding a downtime situation and not. Dave said if one were to think of the electric driverless car of the future "you really want to make sure that car can make its own decisions very quickly, and it doesn't have to wait for cloud connectivity."
In addition to the time cloud computing can take, Hogan says it is too expensive to send everything through the cloud due to the vast amount of data being collected off of machines today. Connectivity from the cloud to a machine is also reliant on several networks, not all of which are under a user's control. "Reliability in local and edge computing applications is much higher," he says.
Dave notes that edge computing also allows manufacturers to preserve proprietary knowledge, as it can be kept locally and therefore within their control.
He also says cloud computing is not going away. "It plays a very important role. The way you should think of this is edge computing is a front end, and cloud computing is a very powerful back end, and together these two solutions can handle the explosion of 10s of billions of [connected] devices."
Hogan adds that cloud computing is beneficial for aggregating large amounts of data from many different sources to provide analytics on a broader basis. "It also allows remote connectivity to a network from anywhere," he says. Meanwhile, edge computing enables quick decisions to be made and filters data so the cloud is only collecting what is needed for providing analytics.
"Without edge computing, all information would go to the cloud, including unnecessary information," says Hogan. "This is an increase in storage space, costs, and internet bandwidth. The most efficient solution combines the two." 
As he explains it, edge computing acts as the first filter for time-critical data and processing data that is essential for the cloud. Once that's done, cloud computing can focus on providing the complex analytics of the data instead of having to also filter and clean out the data as it comes directly from a device.
Since there are many sensors involved in the data collection process, Dave said HARTING is working with manufacturers to integrate the technology in from the get-go. In addition, the company has several technologies, such as connector-level solutions, to aid with data collection for edge computing.
At the core of HARTING's IIoT solutions is its MICA industrial edge computing device which is flexible and can be adapted to a wide range of products. Hogan says the HARTING MICA allows for pre-processing of data so that information is sent to the cloud only when there are detections of anomalies in behavior. "These anomalies can then be aggregated from several thousands of devices in the cloud, which is a much more manageable data set to be able to perform complex algorithms and analysis with."
"The edge architecture is complex, but we think we have a very good set of solutions that can very effectively bridge this edge front-end computing and tie it to the cloud," concluded Dave. 
Companies in this article