Katalyst Technologies announces the expansion of its Global Engineering and Manufacturing Business Unit into the Heavy Construction Equipment and Crane sector as a result of a takeover of the engineering center of a leading multi-national crane manufacturer in India. This was mainly undertaken to benefit from the significant expansions in the global construction equipment market. The expansion brings the organization's global headcount to well over 1,200 associates, spread over Europe, North America and Asia.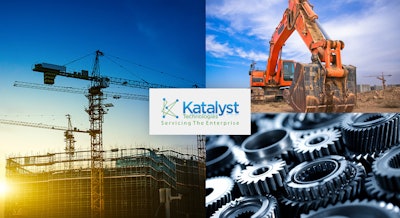 The global construction industry has seen more growth compared with the overall economy, and the momentum does not seem to be slowing down. The global construction industry is expected to reach an estimated $10.5 trillion by 2023, and it is forecast to grow at a compounded annual growth rate of 4.2% from 2018-2023. This development will offer a large number of opportunities to Katalyst concerning mechanical and manufacturing engineering services.
To meet this increased market demand, Katalyst has reorganized the Global Engineering Services Group into a "Center of Excellence" structure designed to provide end-to-end engineering services broadly to the construction equipment and crane business. The Center of Excellence structure involves a comprehensive variety of sub-units such as engine and drivetrain, structures, FEA, hydraulics, electrical control systems and technical publications. Katalyst can now provide integrated vehicle-level engineering support to OEMs. Some projects that have already been executed include design projects of complete products such as Wheel Mounted and Truck Mounted Mobile Cranes, Cement Trucks and Concrete Placing Equipment and Road Building Equipment to name a few.
President of Katalyst's Global Manufacturing Engineering Services Ray Bellan says, "We have delivered several projects to leading multi-national OEMs who have undertaken plant relocations and have played a vital role in these relocations deploying Lean Six Sigma teams to thoroughly document, transfer, improve and re-implement production lines in a new location."
As manufacturing continues to be sourced near to the point of use of consumers and with extensive design localization, to cater to local preferences, Katalyst has made available to the Construction Equipment Segment its 25 manufacturing campuses located throughout Asia. These plants located in strategic areas, often in tax-free zones, and provide contract manufacturing services in the areas of metal fabrication, castings, forgings, machining, electronics, wire and cabling, electrical control systems, composites and system-level product integration. The vertically integrated manufacturing is proving exceptionally complementary to Katalyst's equally broad engineering services capabilities.