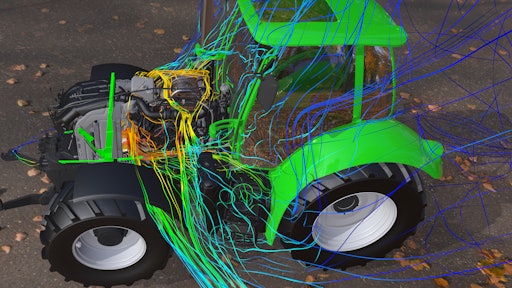 Exa Corp., a global innovator of simulation software for product engineering, and agricultural vehicle and machinery manufacturer SAME DEUTZ-FAHR (SDF), have reached new heights in the optimization of thermal and acoustic development thanks to enhanced access to Exa's full suite of simulation products – running in a scalable, secure, high-performance computing (HPC) environment through the ExaCLOUD web interface.
Having doubled its investment in Exa's suite of digital simulation tools over the past five years, all of SDF's products are now developed using PowerFLOW and PowerTHERM software through ExaCLOUD. In the past year alone, more than 300 simulations of innovative design concepts for cooling packaging and climate control have been developed using Exa software, utilizing millions of hours of CPU time. The capability to identify all variables of component changes from the very beginning of the design process, through to final validation before the production of physical prototypes, saves significant amounts of time and money, as well as producing a better, more efficient end product.
Massimo Ribaldone, R&D Executive Director at SDF, comments, "Before we enlisted the expertise of Exa, we were relying on one-dimensional simulations and physical testing to assess the cooling performance of our tractors and heavy-duty machinery. This process was inefficient and was costing the business unnecessary time and money in R&D which could be better used elsewhere. Now, with the full implementation of Exa's cloud-based simulation software, however, we are able to perceive the three-dimensional results of hundreds of highly-detailed design iterations, all within a very short turnaround time and at greatly reduced cost. This gives our design and engineering teams significantly more time to work together on producing efficient and reliable designs."
Since 2008, SDF has optimized a series of its mechanical development processes with Exa's PowerFLOW and PowerTHERM simulation tools. The company sought an efficient and cost-effective method of design and validation in order to service its global customer base.
Initially introduced to assess and optimize the engine bay cooling of SDF's tractors, Exa PowerTHERM provided intricate simulations of heat dispersion under varying real-world performance cycles, within hours of initial processing. Travelling at low speeds while plowing or transporting considerable weight, a sturdy and reliable solution to the vast heat produced by these hard-working engines was vital to overall efficiency and affordability when broaching the physical production phase.
SDF's design team analyzed the complex underhood packaging of the engine and its surrounding components, tweaking the cooling fan shape and size, as well as the multiple operating points, all using Exa's PowerFLOW design optimization capabilities. Also, the innovative, 3D component morphing tool included with Exa PowerDELTA allowed SDF to identify ideal cooling fans in particular, leading to a significant reduction in all-round engine bay heating over a typical operating cycle.
The constant real-time sharing of data between SDF's various departments and across different continents during the development process is vital for ensuring project targets are continuously met on time and within budget. The visualization tools offered within PowerFLOW allow design teams to understand the effects of their modifications, while SDF's engineers can assess the most effective means of implementation. This process can now happen online, via the highly secure web-based ExaCLOUD HPC environment, further streamlining communication between departments and supporting close project collaboration from start to finish.
Following the success of Exa PowerFLOW and PowerTHERM for the cooling and packaging of SDF's engine bay designs, the Italian manufacturer added in-cabin climate control, NVH reduction and HVAC systems to the list of development areas using simulation-driven design. As part of the company's ongoing commitment to comprehensive digital development, SDF has extended its use of Exa's simulation software to more than eight families of its tractors and combines, including all variants.
Companies in this article