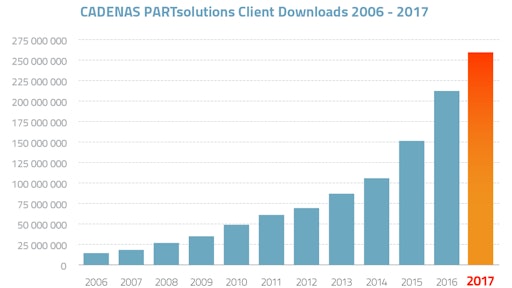 Another year, another record: CADENAS PARTsolutions has broken its yearly record for digital CAD model downloads for the 11th consecutive year, proving that CADENAS remains at the forefront of CAD models and intelligent engineering data. In 2017, there were more than 260 million digital parts downloaded from CADENAS PARTsolutions clients — a nearly 25% increase from last year. For the first time ever, each month in 2017 recorded over 20 million part downloads. 
The continued record-setting achievement affirms CADENAS PARTsolutions' commitment to providing the best product and services to its clients and their customers through constant optimization, product extensions and outstanding innovations year after year.
Daily Tool for Millions of Engineers
Engineers and designers worldwide can download 3D CAD components from 460 manufacturers and import them into their CAD system, any time of day. These digital components are available in over 100 native CAD formats such as Autodesk Inventor, Creo Parametric, SolidEdge, SolidWorks and NX. Whether engineers search for a certain CAD model with a simple sketch or a similar part, the Geometric Similarity Search GEOsearch finds the product they need faster and with more precision than other search tools.
Successful Marketing Tool for Component Manufacturers Worldwide
Because of the growing popularity of 3D CAD model downloads among engineers and designers around the world, a digital product catalog is ideal for component manufacturers to promote their products internationally. The advantage for manufacturers is clear: Nearly 87% of the downloaded CAD models lead to direct sales.
CADENAS PARTsolutions is constantly expanding its online marketplaces, as well. Manufacturers can rest assured knowing their product catalog is well represented on 90 vertical online marketplaces, portals and social communities such as Autodesk, DraftSight and SolidEdge.
With over 16.1 million engineers worldwide, the digital product catalogs put 3D CAD models in front of the right target group. Engineers find the solutions they need when they need it, and manufacturers grown their audience reach.