Eaton
Speed has become an increasingly important factor in the overall design process for manufacturers. Because of this, software is a key part of their toolbox, enabling them to quickly work through various design iterations.
As the need for various software tools has grown, many component manufacturers have developed and released their own programs to aid their OEM customers. Earlier this year Horton Inc. introduced its eRev Fan Software to help its customers select the right fan products for their applications. Kevin Hruby, Horton Product Manager, Fans, says resources at many OEMs have been constrained, and they may not have the expertise and bandwidth to have the deep understanding necessary to select a cooling fan and fan drive for their systems. "We determined we needed to bring the breadth of the Horton portfolio and our experience with engine cooling right to the desktops of those at the OEM making the technical choices," he says.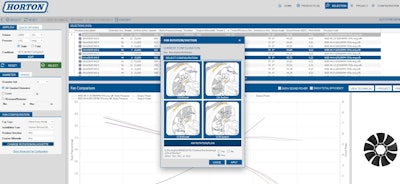 He notes that the relationship between OEMs and Horton's sales and application engineers is still a valuable part of product selection, but the eRev software offers customers an opportunity to get the technical information right when they need it. An OEM can get further through their design process using the software, and have a preferred product in mind when it comes time to contact Horton directly for further consultation, optimization or purchasing. "Essentially, it'll help the OEMs reduce their time to get the right product," says Hruby.
It also enables Horton's sales and application engineers to be more efficient by reducing the amount of time they need to spend going back and forth with a customer on the phone or via email about a project. In addition, he says the software makes it easier to reach customers Horton may not work with on a daily basis, or those that it hasn't worked with yet, by making the technical details about its breadth of products available at all times of the day.
Creating a faster design process
Hruby says there are a couple of different ways customers can use the eRev product selection software. If already using a Horton fan, users can select that product within the software and modify various application parameters—such as air flow, pressure or speed—and get the fan's technical data. 
When looking for a fan and only certain parameters are known, such as minimum air flow and pressure, that information can be entered into the software to create a list of product options that meet the design criteria of the cooling system. Additional selections and modifications can be made to further tailor the list to the customer's specific application needs.
Because all of the data within the software is based upon actual physical testing Horton has conducted over the years, Hruby says it was possible to integrate more data selection criteria. For instance, users can see how much the fan is immersed within the engine shroud affects its performance curve, or the effect of having the actual engine in the way of the fan discharge. Doing so makes it easier for users to see how the different Horton products will perform in comparison with their system designs.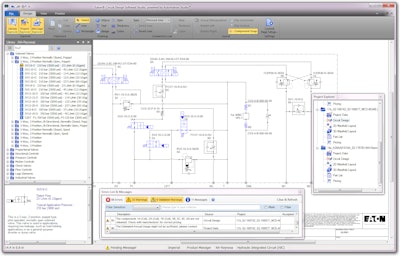 For its new Circuit Design Software Studio, Eaton provides users with a blank sheet on which a schematic can be built that meets their application requirements. Specific features of each valve type can then be spec'd. Once completed, the schematic is transitioned to a 3D environment where valves can be moved around the manifold block to accommodate design constraints such as obstacles and hose routing. Users can then print out pricing and lead time for production of the design they've created within the software.
The software provides real-time feedback on list price and segmentation, as well as links to all valve documentation within Eaton catalogs, says Matt DeBruine, Global Category Lead – SiCV, Eaton. "As users select different configurations on a given valve, they can easily see the price and delivery time, as well as valve specifications and other key information," he says. "Users adopting the Circuit Design Software Studio will…have all of the information they need about our valves at their fingertips."
This quick access to product information aids the speed at which an engineer can work through a design. DeBruine says speed is a primary factor for the screw-in cartridge valve (SiCV) and manifold circuit design (MCD) markets. "Software designed to speed these processes are key to enabling customers to quickly develop and integrate hydraulic components into their systems," he says. "At Eaton, we wanted a more robust and updated solution for executing on speed to quote in the market, as well as improving our communication with customers."
Easy to use platforms
A key element of software design is ensuring ease of use so customers can take advantage of the faster work flows the software is intended to provide. DeBruine says the 3D capabilities of Eaton's software aid this by allowing users to see if selected valves align with a machine's current architecture requirements. An auto-sizing feature is included, as well, to make it easier to minimize the package size. DWG, 3D or Automation Studio files can also be exported, providing flexibility when working across multiple design platforms.
"Ultimately, all of the features of the Circuit Design Software Studio work together to minimize the iterations of MCD design," he says. "Instead of going through seven, eight, or more different versions, designers and systems engineers can rapidly see and alter manifolds before implementing a design, dramatically speeding the [design] process."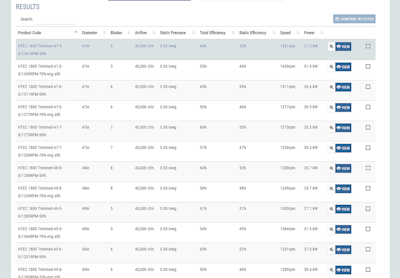 Hruby says making the eRev software easy and fast was important to Horton, which is why it put all of the key application criteria a manufacturer might need to select a fan in one spot. When the search results are created, each product and its corresponding set of data is on a single line, making it easier for users to see all of the necessary information without having to click around on various parts of the screen. Users can modify or customize the results to meet their preferences, hiding certain columns of data or the way the information is arranged.
Search results can be saved in a project module and shared with other team members or a contact at Horton so that all parties are on the same page about the criteria and application searched for, and the possible product options.
In October Horton will introduce a web-based version of the software for those who may not be able to download the software onto their computer, or prefer working in a web-based software. Hruby says this an example of the constant updates the company will make to its software. Anything from minor improvements to inclusion of new products under development will be made to update the software and ensure it continues to ease the design and product-selection process for customers.  
Companies in this article