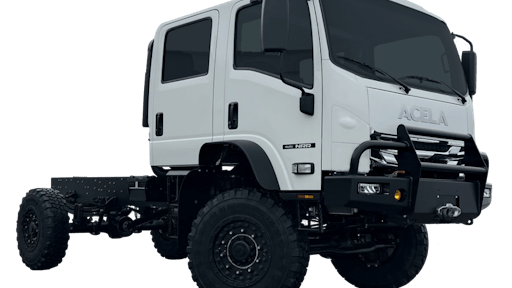 Acela Truck Company
Acela Truck Company, a manufacturer of high-mobility truck chassis, introduced the new Acela Straya four-wheel drive, high-mobility, cab-over, 19,500-pound GVWR truck chassis in North America. The Straya is the first ever purpose-built wildland/urban interface fire truck chassis. Its cab-over design and military-grade performance offers maneuverability and visibility and off-highway capabilities for use in demanding work environments.
The new Acela Straya is equipped with Meritor 3000 Series axles, driver-controlled differential lockers and 41-inch military tires. It has an onboard central tire inflation system, a driver-controlled push-button capability that adjusts tire pressures on demand from 95 psi to 17 psi. This allows the Straya to be driven on-highway and off-highway through sandy, swampy, snowy, steep, washboard and other challenging terrain. The lower tire pressure selection allows the chassis to mimic tracked vehicle performance.
The Straya will be available in single- and crew-cab configurations in multiple wheelbases and provides 19.6 inches of ground clearance and up to 41 inches of water fording capability. The cab-over design offers enhanced driver visibility and a small turning radius of 49.9 feet. It seats up to seven people with multiple seating options available.
Companies in this article
Request More Information
Fill out the form below to request more information about
Acela Truck Company Introduces New Fire Truck Chassis