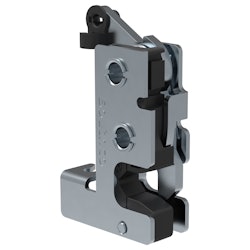 Southco

Southco introduced two new options to its heavy-duty R4 Rotary Latch line, offering an anti-vibration feature and an integrated cable mounting bracket solution. Southco's new R4-30 Rotary Latch additions dampen noise from vibration and simplify cable mounting for applications requiring remote latching. Southco's R4-30 Rotary Latch with integrated bumper—available with any of the R4-30 configurations—holds the latch striker between the cam and bumper, eliminating the potential for unwanted noise and vibration for applications in motion. The R4-30 with cable mounting bracket is available for bottom lever solutions and enables cables to be easily configured and incorporated into the rotary system, without needing to buy and install a separate cable bracket.
The R4-30 Rotary Latch with integrated bumper and cable mounting bracket are available with high-strength steel and corrosion-resistant, stainless-steel construction. The R4-30 features either single-stage or two-stage engagement, which supports increased operator safety by eliminating false latching conditions in heavy-duty equipment applications.
Southco R4 Rotary Latch Systems provide a robust solution to secure panels with push to close convenience, offering concealed latching at one or more points of the application. When combined with Southco AC Actuators and Cables, R4 Rotary Latches create a complete rotary latching system that provides secure, reliable, remote latching for interior and exterior applications.
Request More Information
Fill out the form below to request more information about
New Rotary Latches