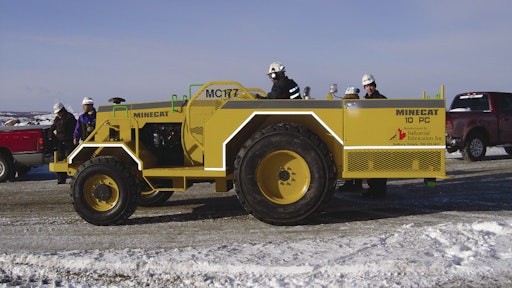 Cool fresh air comes at a significant expense in an underground mine. Air pollution in a hardrock mine comes from a variety of sources — just as it does above ground — but emissions from diesel engines are near the top of the list of concerns. Mine engineers must consider diesel emission levels and ventilation routes, the latter driven by large fans that push and pull fresh air through the mine.
With the prices of raw material at record highs, the mining industry is going strong. After years of keeping older machinery on the job, mining companies are buying new machines in record numbers. Up until very recently the trend was toward boarding up mines and laying off workers; today large firms are desperately seeking the personnel required to operate the new machinery.
There has been a movement to go back underground in search of paydirt. A century ago, miners in boom towns in Arizona or Colorado tunnelled after veins of precious metal; it was safer than an open pit and the equipment was better suited for working the narrow shafts. The advent of larger shovels and trucks made surface mining economically feasible. In North America open pit mining clearly leads the mining industry today, but community and regulatory pressures are making deep mines attractive.
"The future for many open pit mines is to go underground," says Chris Gehner, regional manager, North and South America, Caterpillar Underground Mining Pty. Ltd. "Many ore bodies go very deep underground, and making the pit even deeper than it already is not practical."
Gold or coal usually comes to mind first when underground mining is discussed, but the trend to tunnel into the Earth in search of valuable raw material includes stone and aggregates suppliers, as well. Sometimes it's simply a matter of economics, other times environmental pressures make it the only option. By going underground, companies are able to better manage dust and noise; quarries located just outside urban areas can operate 24 hours a day.
Recently, in suburban Chicago, Fox River Stone, South Elgin, IL, became one of the only firms in the country to employ a Voest-Alpine Tunnel Miner ATM 105 roadheader, which it is using to open a 17.5% decline to a huge reserve of dolomite. The firm has extracted more than 50 million tons of it from a surface mine, and it estimates that stock will be depleted by 2007. Most of Fox River's dolomite goes into ready-mix and asphalt plants. More than 300 feet of shale covers the next layer of dolomite. Fox River determined going underground made the most economical sense.
"We've been seeing a trend over the last two years to go underground," says Chris Curfman, president, Caterpillar Global Mining, Peoria, IL. "It takes about half the time to get a permit for an underground mine, whether coal or hardrock, than it is to open a pit. We are also seeing a pent-up demand in North America for underground quarry operations. A lot of people running large quarries are starting to buy our underground trucks. We're talking about the big aggregate companies like Lafarge, Martin Marietta and Pioneer."
Underground mining equipment represents a relatively small portion of Caterpillar's worldwide business. Going forward, Caterpillar plans to give underground mining a significant amount of attention. "We plan to take a commanding position in that industry in the next three years," says Curfman. "Look for expanded product lines and more activity in emerging markets such as Russia, Indonesia, and China."
One step in that direction came earlier this year with the introduction of the R1300G Series II load-haul-dump (LHD), equipped with Caterpillar's C6.6 ACERT diesel. A specialized machine for work underground, the R1300G is less than 85 in. tall and weighs 46,021 lbs. empty (it is equivalent to a Caterpillar 966H wheel loader). The ACERT engine puts out 182 hp to help move a payload of nearly 15,000 lbs at up to 19 mph in fourth gear.
In designing the new LHD, Caterpillar put safety features first — including walkways for servicing the machine, and a firewall to separate hydraulic and transmission fluids from the hot engine. Because the C6.6 meets EPA Tier 3 regulations, the machine runs cleaner, too.
Over the years an engine's need for fresh air and exhaust removal has been a major focus for mine engineers. EPA emissions regulations are a help. "Obviously the progress that we have gone through from Tier 1 through Tier 3 has made significant improvements for underground," says Gehner. "There are still minimum requirements that MSHA and the mining inspectors require, but as far as the main production fleet and the air is required, there is definitely the potential for money savings using the cleaner engines."
Underground mine operators expect the same performance from their machinery as their peers working up in the snow and rain. There can be hundreds of miles of tunnels in a single mine. Owners want a lower cost per ton, to move material from the bottom of the mine to the top as fast as possible.
Diesel particulate limits
The confined work environment of a deep mine can lead to significant concentrations of airborne particles produced by equipment used in the mine, including diesel engines. In the nation's mines, the U.S. Department of Labor's Mine Safety and Health Administration (MSHA) is tasked to protect the miners.
In May, MSHA issued a final rule strengthening protections for miners exposed to diesel particulate matter (DPM) from engine exhaust in underground metal and nonmetal mines. "Diesel Particulate Matter Exposure of Underground Metal and Nonmetal Miners" was published in the Federal Register on May 18, 2006.
"Exposure to DPM is a significant public health concern, and underground miners are exposed to higher concentrations of DPM than any other occupational group," says David G. Dye, acting administrator for MSHA. "This final rule ensures enhanced protection for miners from the effects of diesel particulate matter."
The final rule phases in the final limit of 160 micrograms of total carbon per cubic meter of air (160TC µg/m3) over a two-year period. The first phase of the final limit of 308 micrograms of elemental carbon (308EC µg/m3) will become effective in May. On Jan. 20, 2007, the DPM limit will be reduced to 350TC µg/m3. The final limit of 160TC µg/m3 will become effective on May 20, 2008.
Mine operators must continue to use engineering and administrative controls, supplemented by respiratory protection when needed, to reduce miners' exposures to the prescribed limits. MSHA will enforce the final limits as permissible exposure limits (PEL). MSHA first issued a rule establishing DPM exposure limits in 2001.
Work utility vehicle
Mining operations building a complete fleet need a utility vehicle such as the Minecat 100. In the narrow spaces of a metal mine, the Minecat performs the role a heavy-duty pickup might at a construction site, hauling tools and personnel to remote areas. The Minecat is available in 10 different configurations with seating for up to 10, or can be outfitted with cranes and other accessories.
Industrial Fabrication Inc., located in Sudbury, the heart of Ontario, Canada's hardrock mining region, redesigned the Minecat after acquiring the line in 2002. Minecat is purpose built from the ground up using a modular, ladder-type steel frame. Nearly 50 have been built since it was introduced last fall.
The engine in the Minecat is provided by Iveco Motors — the Tier 2, 4.5 L four-cylinder turbocharged NEF N45 MSS engine. Engines are exported from Italy directly to Genrep, an Iveco Motors distributor in Canada, which helps facilitate delivery to the customer in Sudbury, a five-hour drive north of Toronto. The NEF N45 MSS recently received certification for use in North American mines.
Mining approval is governed by MSHA and the Canada Center for Mineral and Energy Technology (CANMET) and Mining and Minerals Science Laboratories.
"You don't have to be certified unless you want to sell engines into underground mines," says John Madey, product manager, Iveco Motors, Carol Stream, IL. "It is more of document recording the engine's emissions characteristics than a standard. With it mine engineers can total up the emission outputs of all the equipment that will be operating in the mine and figure out the ventilation rate they'll need. Lower emissions can mean a better working environment for the miners, and it is better for the OEM."
"The emissions are low on the Iveco Motors engine, which is what the mines want to see," says Peter Villgren, vice president, Industrial Fabrication.
For Iveco Motors, certifying the versatile 860 lb. NEF engine made a lot of sense. "The NEF is our engine of options," says Madey. "We created a new configuration, but didn't have to make any new parts for the Minecat application. It has a nice spot in mining. Because it is so easily configurable, it can help shorten our customer's time to market."
Iveco Motors got the certifications for both MSHA and CANMET at the latter's Energy Technology Centre in Ottawa, Canada. "CANMET did all of the test work on it. We took a standard Tier 2 production engine, and they put it on their dynos and measured the emissions. We have to supply drawings of various parts of the engine and provide documentation to ensure that this engine represents all production NEF engines."
As long as an engine manufacturer doesn't make any alterations to the engine, it stays certified. Iveco Motors will redo the tests when the engine is changed to meet Tier 3 regulations.
Minecat was using another engine that went out of production. "We worked with the Minecat folks to get the NEF engine in their new vehicle," says Madey, "and part of that was getting the certification. Underground mining is an interesting market. There are lot of challenges with it."
The certification of the NEF engine was "driven by our customer's requirements," he says. "Industrial Fabrication chose the NEF engine because it will evolve to the next tiers of emission legislation virtually without any change to its layout or performance."