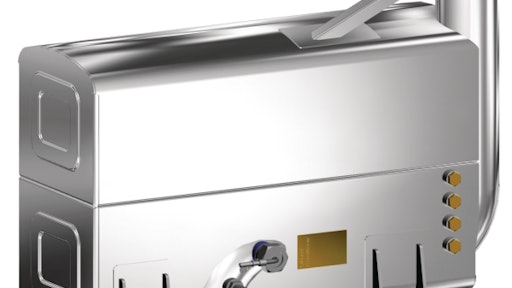 When it comes to the new emissions control components that will be required to meet Tier 4 regulations, a common concern from engineers is that there simply isn't enough room under the hood in current machine designs. Nett Technologies Inc., Mississauga, ON, Canada, may have a solution in the form of its BlueMAX™ 100 selective catalytic reduction (SCR) system.
The Nett BlueMAX SCR system is being offered as a direct-fit design for existing machines. This simplifies installation and offers a customized solution to a challenging emission control problem. The systems sensor-based control strategy is suitable for retrofit applications as well factory installations by OEMs. The system can be installed on a wide range of diesel engines; no additional engine calibration is necessary. The BlueMAX technology offers SCR systems with optional actively or passively regenerated diesel particulate filter.
Nett offers a wide range of engine emission control products, from diesel oxidation catalysts, three-way converters to diesel particulate filters and SCR systems for diesel, natural gas, LPG, and gasoline engines. It's known for its ability to provide direct-retrofit solutions (where a catalyst replaces the original muffler) in tight configurations through the integration of design engineering and manufacturing. Designing such systems poses several design challenges – fit, vibration, component stress, etc. – as well as thermal management.
Under development for two years, the BlueMAX100 recently received verification under the Environmental Protection Agency's Environmental Technology Verification (ETV) program, the first issued for a urea-SCR retrofit device.
Like all SCR systems, BlueMAX is designed to control nitrogen oxides (NOx). The system uses a urea control strategy that relies on a NOx concentration measurement by a sensor positioned upstream of the SCR catalyst. Based on the NOx sensor signal, in combination with an engine mass air flow sensor and temperature sensor, the necessary urea dosing rate is calculated by the control algorithm. It also controls diesel particulate matter (PM), hydrocarbons (HC) and carbon monoxide (CO). Verification testing, over two test protocols (NRTC and 8-mode steady test cycles) conducted at Southwest Research Institute proved that the system reduced NOx by 68-71% and PM by 12-27%.
Nett performs all engineering, testing and manufacturing at its suburban Toronto facility. The current 40 CFR (Code of Federal Regulations) compliant engine emissions test lab consisting of 20 kW and 80 kW eddy current engine dynamometers will soon be joined by another 40 CFR part 1065 compliant, 220 kW CVS dilution cell, further increasing its in-house capabilities.
Nett's research and development team focuses on new product development, while its designers create unique solutions for customers. "All of our solutions are customized" says M.A. Mannan, business manager, Nett. "We work on a one-to-one basis with our customers to meet their requirements."
Over the past 16 years, Nett has provided more than 6,000 unique designs. "Each design takes from few days (design of DOC mufflers) to several weeks (design of SCR systems). Space under the hood is tight, and it can be challenging. The design process is very complex. In some cases we have to move some components, and we work closely with the OEM to do that," he says.
Each SCR design is unique and initial investment could be substantial; however, the company is prepared and dedicated to providing revolutionary customized solutions to its customers. Once the design is finalized, manufacturing happens quickly at its Mississauga plant.
While Nett's strategy is to introduce the BlueMAX 100 to the retrofit market, Mannan agrees it's also appropriate for OEM installations, as well. "They won't have to redesign the machine to meet emissions regulations. We do all the work, they don't even feel it. The system is shipped with all necessary hardware to make installation simple."
Nett has SCR systems working successfully on loaders, excavators, bulldozers, etc and on severe service applications such as compactors. Other applications include installations in underground mines and refuse trucks. "In 2009 we installed the first SCR system in a mine on a 730 hp haul truck working in an underground salt mine in Goderich, ON. "It already has over 2,000 hours, and the mine loves it. It was a cost-effective solution to reduce emissions; in this case the mine's objective was to reduce NO2 emissions.
"Companies like Nett have to do the work to educate end-users and engineers about the advantages of SCR. We've placed our SCR systems in the worst applications. Those are the steps we needed to take in order to show the customer that our system can take abuse."
Companies in this article