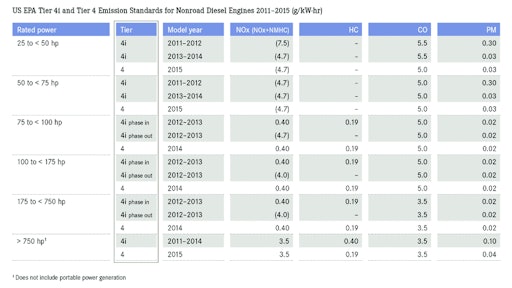 January 1, 2011, was the start date for non-road equipment manufacturers to begin using diesel engines that comply with the U.S. Environmental Protection Agency's (EPA) Tier 4 interim (4i) emissions regulations. With some exceptions, Tier 4i regulations now apply to all non-road diesel engines 175 horsepower and greater — the power range most often used to power construction and industrial equipment, such as excavators, loaders, cranes, mining trucks and agricultural equipment. This latest round of exhaust emissions reductions takes aim at further reducing nitrogen oxides (NOx) and particulate matter (PM) in diesel exhaust. Tier 4 final regulations, which will further reduce NOx, are scheduled to be implemented beginning in 2014 and 2015, depending on horsepower categories.
EPA

flexibility offers manufacturers a reprieve
Since the Tier 4i and Tier 4 non-road engine regulations were proposed in 2003 and finalized in 2004, the EPA has been taking comments from equipment manufacturers about how to implement the rules with the greatest effectiveness and least adverse economic impact. It was determined that requiring equipment manufacturers to comply with the provisions of Tiers 1, 2, 3 and 4 under the current timetable would create an unreasonable economic burden for some — without accruing significant environmental benefits for the public.
So, beginning with the Tier 2 non-road emissions standards, the EPA instituted a number of flexibility provisions designed to provide equipment manufacturers with some control over their transition to the new emissions standards. In general, these provisions have been extended to include implementation of Tier 4i and Tier 4 final. The flexibility rules allow pre-approved equipment manufacturers to use the previous-Tier engines in lieu of Tier 4i or Tier 4 final engines for up to a seven-year phase-in period.
Challenges of moving to Tier 4 engines
The new Tier 4i and Tier 4 engines are a culmination of a development process — with the goal of reducing emissions — that began in the 1990s. Since then, diesel engine manufacturers have made tremendous strides in reducing exhaust emissions through in-engine design changes and new technologies such as high-pressure common rail fuel injection, electronic controls, exhaust gas recirculation (EGR) and multistage turbocharging. In addition to being cleaner, engines have become more fuel efficient. Most major manufacturers now offer diesel engines that are Tier 2, Tier 3 and Tier 4i compliant, and will offer Tier 4 final engines in various engine horsepower categories.
However, one consequence of making the engines cleaner and more efficient is that the engine envelope has gotten somewhat larger, creating a challenge for non-road equipment manufacturers to fit the engines into existing chassis. This is especially true with Tier 4 engines. When Tier 4 final regulations come into effect, this issue will become even more complicated. Equipment chassis will have to accommodate various exhaust aftertreatment devices on certain engines, such as selective catalytic reduction (SCR), tanks for diesel emissions fluid (DEF) and diesel particulate filters (DPF). The flexibility rules allow OEMs to avoid having to redesign equipment chassis to accommodate Tier 4i engines and then redesign them again to accommodate Tier 4 final engines.
General flexibility guidelines
Under the EPA's flexibility rules, equipment manufacturers could delay the time when they would have to convert to Tier 4 final engines until 2020 or 2021, depending on which provision in the flexibility guidelines they select. For applications involving engines from 175 hp to <750 hp (130 to <560 kW), an OEM may be allowed to continue using Tier 3 engines until 2017. Alternatively, if the OEM chooses to convert to Tier 4i engines immediately, it may be allowed to continue using Tier 4i engines until 2020. For applications involving engines 750 hp (560 kW) and above, an OEM may be allowed to use Tier 2 engines until 2017 (there are no Tier 3 engines in this power range). Alternatively, the OEM may be allowed to use Tier 4i engines until 2021, at which time Tier 4 final engines would be required.
While allowing previous-Tier engines, the general flexibility guidelines limit the number of previous-Tier engines that can be installed each year and over the duration of the transition period. These limitations are based on either a percentage of production allowance or a small volume allowance, and OEMs must choose which provision to use. These provisions also allow OEMs to use existing inventories of previous-Tier engines.
Percent of production allowance
Under this provision, the use of non-Tier 4i or non-Tier 4 final engines would be limited to a cumulative total of 80% of production over the seven years of the transition period. This provision applies to each power category separately and cannot be used in conjunction with the small volume allowance below.
For example, under this provision an OEM would be allowed to install 175 hp to 750 hp Tier 3 engines in 40% of its entire 2011 production, 30% of its entire 2012 production and 10% of its entire 2013 production (40+30+10=80). The remaining production would need to comply with Tier 4i or Tier 4 final standards.
Small volume allowance
The small volume allowance provision is directed at manufacturers with limited product offerings. It allows the OEMs to exceed the cumulative percentage of production allowance during the seven-year transition period. However, this provision limits production to no more than the totals listed below.
Within these two allowances above, OEMs must choose only one from the following three limitations:
A total of 700 units over the entire Tier 4 allowance period involving one engine family per power category
For engines below 175 HP, 525 units in a single power category with no more than 150 units per year in multiple engine families over the Tier 4 allowance period
For engines greater than 175 HP, 350 units in a single power category with no more than 100 units per year in multiple engine families over the Tier 4 allowance period
Allowance to use up existing inventories
For OEMs that have inventories of Tier 1, Tier 2 or Tier 3 engines, the rules allow the OEMs to continue to use these engines without affecting their flexibility allowances until such inventory is consumed.
Requesting previous Tier engines
Major diesel engine manufacturers are required to make engines that comply with the latest EPA emissions standards. This means that in order to ensure availability of previous-Tier engines, OEMs that want to take advantage of the flexibility rules must request flexibility engines from their engine suppliers in writing on a yearly basis. In the letter requesting flexibility engines, the OEM must provide assurance to the engine manufacturer that the previous-Tier engines are required to meet demand. In addition, the written request must specify the quantity, model and specific rating of the noncomplying (previous-Tier) engines needed by the equipment manufacturer in the calendar year.
Penalties for noncompliance with the emissions regulations or transition allowances are stiff. An OEM or dealer can be fined $37,500 per violation, and individuals other than an OEM or dealer can be fined $3,750 per violation.
To reduce the financial impact of compliance with the Tier 4i and Tier 4 final non-road diesel emissions regulations, the EPA is allowing equipment manufacturers greater flexibility in transitioning to the new standards. While the flexibility rules have various provisions and limitations, many non-road OEMs will be able to benefit from the rules without significant impact on the environment. The extra time for compliance (up to seven years) will allow them to transition to the cleaner Tier 4 final engines more gradually and without undue financial burden. For more information about the flexibility rules, consult your engine manufacturer or the EPA.
Christine Ueno is the Manager of Regulatory Compliance at MTU Detroit Diesel