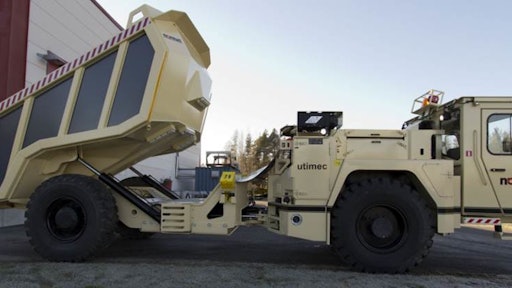 In December, Finland-based Normet Oy launched its new M- and L-Series underground mining and tunneling machines updated with Stage IV/Tier 4 Final engines. The company has been rolling out new Stage IV/Tier 4 Final (T4F) machines since September, and will continue to do so over the coming year, says Jarmo Husso, Senior Manager, Equipment at Normet Oy.
For the new M- and L-Series machines, the company is using Cummins engines—a QSB4.5 119 kW (159.6 hp) engine in the M-Series and QSB6.7 168 kW (225.3 hp) engine in the L-Series. Husso says Normet chose the Cummins engines because of their proven technology and many performance benefits. "With these Cummins engines, we can get more peak torque from the engine which is an advantage when traveling on inclines," he says.
Additionally, Husso notes the engines provide fast response to load demands and have been shown to provide as much as an 8-10% decrease in fuel consumption compared to Tier 3 engines, helping Normet's customers save on fuel costs.
The engines' aftertreatment system consists of exhaust gas recirculation (EGR), selective catalytic reduction (SCR) and diesel oxidation catalyst (DOC) technology. Cummins touts its aftertreatment system to be relatively maintenance free, which Husso says was another factor in Normet's decision to use the engines. Because these machines are often working deep underground, being able to minimize maintenance needs reduces costly downtime and ensures the safety of the operators working in the harsh environmental conditions. Cummins' global service network was also a deciding factor to guarantee customers will have access to the help they need should maintenance issues arise.
While many customers are now having to purchase T4F equipment in order to comply with regulations, Husso notes many also want machines with the latest engine technology to help decrease ventilation costs within the mines.
Drivetrain enhancements
Like many OEMs, Normet used the need to update its machines for emissions compliance as an opportunity to add other new technologies and features for further performance enhancements.
Both machines feature Dana transmissions with a lockable turbine and automatic gear selector. The lockable turbine automatically locks the driveline, enabling engine power to be directly applied to the wheels without slipping for improved driving performance. "It increases speeds on inclines [up to 2 km/h (1.2 mph)] and during declines gives better braking performance," he says.
The M-Series has three gears and the L-Series four gears from which the transmission's automatic gear selector can choose. By having gear selection automated, Husso says safety is improved because operators can focus their attention on driving and the tasks in front of them instead of continually worrying whether they have the correct gear selected.
A hydraulic suspension is an optional feature customers choose to have included on the front axle of their machines. With this suspension, the axle is mounted to a specially designed suspension cradle fixed to the carrier of the frame. The suspension cradle moves up and down; as it does so, hydraulic cylinders connected to nitrogen-filled hydraulic accumulators absorb the forces of the suspension and mitigate the vibrations an operator would otherwise feel. The pressure within the accumulators can be used to adjust the suspension as necessary, as well.
Husso says one of its customers in Australia had a third-party health and safety company study the potential benefits of the hydraulic suspension. The researchers found machines with the hydraulic front axle suspension provided largely improved safety and comfort for operators in comparison to the rigid axle designs used on previous machine iterations.
Improved operator comfort and safety
About 2 years ago, Normet introduced new operator cab designs for its machines; the newest versions of these cabs are used on its new M- and L-Series machines, as well as its S-Series. Features of the cabs include improved visibility and ergonomics, as well as spacious three-point access for easier cab entry and exiting. 
One way the company improved comfort was by using a wider door on the cab while also making the interior of the cab roomier. This was important, says Husso, because miners typically have all of their safety equipment and devices on them which can be rather large; having more space within the cab ensures miners and their safety equipment can comfortably fit into the cab.
Visibility was improved by adding more window space so operators can see around the vehicle. Additionally, more reversing cameras were added. In the past, Normet's machines typically had one reversing camera. Now Husso says customers can choose up to three or four cameras—typically one at the rear of the vehicle and one on each rear corner of the operator cab—to provide operators with better visibility behind the machine and on both sides of it.
Husso notes the camera system also provides recording capabilities, enabling any accidents or other issues that do occur with the machine to be documented and analyzed as necessary.
"Safety is [a key] issue in the mines," Husso says, and an important factor taken into consideration during the design process of Normet's mining equipment. Through inclusion of more safety features—engines with reduced emissions output, smarter drivetrain technologies and more cameras—Normet is helping create a safer working environment for its customers. 
Companies in this article