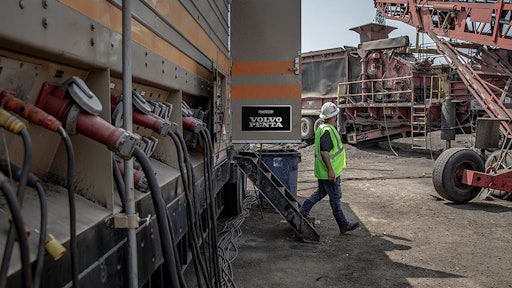 Volvo Penta
Running seven days a week, 24 hours per day for nine months of the year, reliability and fuel consumption have been critical factors in the choice of engine for Thompson Recycle Company based in the US. Volvo Penta D16 has proven to be a successful choice.
Next year it will be 25 years since John Thompson founded Thompson Recycle Company, based in Michigan, US. The company operates three mobile crushing plants throughout the state turning recycled asphalt and pavement into reusable products for road construction.
In 2015, Thompson purchased a Volvo Penta D16-powered generator based on extensive research and consistently positive recommendations from those in the business, despite the fact that he had always used other mobile generator brands.
"Our generators are the prime power for the mobile plants," says Thompson. "The 600kVA, Volvo Penta D16 engine, is providing us exceptional power generation without fail in any kind of weather and extreme temperatures."
Thompson's mobile plants run seven days a week, 24 hours per day for nine months of the year. Beyond the D16's proven reliability, the experienced fuel savings have been notable. Previous generators were burning 33-35 gallons per hour. The Volvo Penta D16 has cut fuel costs nearly in half, burning 16-17 gallons per hour. Thompson Recycle will see a savings of $113,000 in fuel per year, per unit, based on 3,500 hours.
"The guys on site love the D16. It's quieter, has a smaller frame so it's not as heavy in the trailer, and there is increased uptime through longer maintenance intervals," says Thompson. "So, instead of needing an oil change every 250 hours, Volvo Penta intervals are 500 hours."
General Equipment Company, who sold him the D16 and built a custom trailer for it, has been fantastic to work with says Thompson. In Michigan, he works with Alta Equipment Company, and has been satisfied with routine maintenance performance, availability of Volvo Penta parts, and a customized warranty.
Thompson's mobile crushing plants move location 40-50 times per year and recycle more than a million tons of waste asphalt into usable materials. "We rely heavily on our power source and the customers rely on us," says Thompson. "We've been very happy with the power generation and performance of the D16 and have already purchased another for the company."