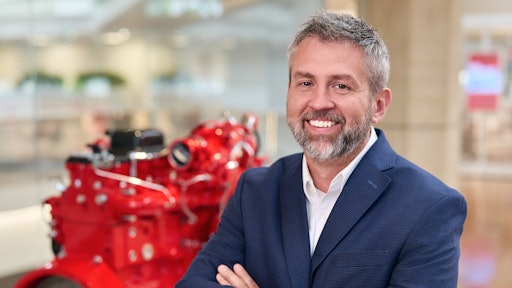 Cummins Inc.
Our team was happy to talk with Jeremy Harsin, global construction market director, Cummins, about our industry in 2022 and what to expect heading into 2023.
What was your biggest challenge in 2022?
Supply chain continues to among the biggest challenge across the industry. We believe things are slightly better than they were in the earlier part of the year and last year, however this industry constraint isn't going anywhere. Strategies will likely be revisited by the entire industry. It has impacted some regions and markets more than others, thankfully Cummins global footprint have given us leverage and options that not everyone may have.
Logistics is another challenge. It is improving, however, not back to "normal" (pre-pandemic). Driver shortages and labor unrest in ports/railways are our biggest concern for continued disruption. A sign of optimism is the availability of freight containers/cost of freight containers. (There are more and they're cheaper than 6 months ago.)
In what technological areas do you see the potential for the most innovation?
Alternative fuels and power get a lot of focus, and Cummins is making investments to support the market no matter the direction. Rising and fluctuating fuel costs, regionalized environmental, social, and governance (ESG) initiatives, and infrastructure development will likely draw more interest to this area. While CMI are investing across technologies, one exciting option is hydrogen (H2) internal combustion engines (ICEs). Cummins' hydrogen ICE, when paired with green hydrogen, produces zero well-to-wheel carbon dioxide (CO2) emissions.
The beauty of this technology option is the H2 variant will be built from the same base engine platforms as our diesel product, enabling OEMs to keep the common powertrain designs from the flywheel back. Scalability of new tech is always a challenge, and this option provides automatic scale on a large set of the components since they are shared with the diesel base. Packaging of the H2 onboard is not to be underestimated, but this technology offers original equipment manufacturers (OEMs) an opportunity to help build out the long term H2 infrastructure while at the same time easing into full on machine redesign.
What innovations or improvements do you anticipate in the off-highway industry in 2023?
The market has been slowly waking up to the benefits of digital connectivity which can cut across many different areas of focus. The current technology can show improvement for OEMs & end users, we have been working to align ourselves with key telematic service providers (TSPs) in the industry. We now live in an age where many engine calibrations can be done from a distance that can adjust and optimize the engine's performance, diagnostics information can be understood from afar, and many jobsite operations can be automated or enhanced. All OEMs want to provide a great end user experience, telematics is a major enabler when done properly. All end users want to get jobs done as efficiently as possible. Telematics can be a major enabler to support this. Many OEMs and end users want to reduce their carbon footprint, which telematics can support through jobsite optimization. The opportunity space on this is still in many ways untapped and can be realized using today's technology.
Which industries face the most hurdles in the move toward electrification? Automation?
Electrification and automation have two different sets of hurdles to overcome. With electrification, Cummins is investing in the technology to support the shift but there will be markets and applications where this is more or less applicable. Charging infrastructure is the easiest barrier to talk about. Sites that see a sizeable, static population will be more likely to justify charging investments than equipment that is transitionary. Packaging, duty cycle, and operational expectations will also dictate where electrification using battery only will ramp up. In the end decisions will need to be made which balance ESG goals, total cost of ownership viability, and the reality of the application/environment in which it operates.
For automation, Cummins engines have already been used to power automated vehicles in other industries. Looking to the mining space for clues, you can see where opportunities to automate some site operations in areas like ports could be possible. OEMs are getting more sophisticated in their safety systems as well which is a big enabler for future automation to expand, being able to confirm safety as automation happens will be the key. Automation provides the opportunity to remove the element of human error which is going to make jobsites more efficient and ideally safer as time progresses.
Do you perceive that most OEMs recognize and respect their roles as stewards of the climate?
Cummins strategy is called Destination Zero, and we are committed to meeting our OEMs where they are in that journey. While we cannot speak directly for the OEMs, what we can say is that most of our partners are asking good questions and looking ahead to what the future can be. ESG is on the minds of OEMs but the path to get there will be unique depending on size of equipment and technology scale. New technology investment is always something that takes careful consideration (timing the investment) and there is a cost to be green at today's levels. Advanced diesel remains at the forefront of planning discussions, but there is always an eye towards what comes next or, in select cases, in parallel.
What will be the biggest challenge in 2023 for the industry?
This question has a two-part answer. First, we should expect that many of the 2022 challenges will carry over into 2023. Supply of key components like electronics will continue to require attention. Inflationary pressures will continue, and the continued effects of Ukraine-Russia tensions will persist. Beyond the immediate activities to keep the lights on, we also expect people will increase their attention on planning for the future. Understanding the right technology and time for a given application will consume engineering departments. From a Cummins perspective, we are well positioned for a multitude of emissions scenarios that could come for off-highway. Having a strong on-highway technology stable and the associated scale to pull from will help us to continue to be the power partner of choice for our OEM customers. This scenario is true irrespective of whether we are talking diesel or alternative energy options. When you combine this with a global manufacturing and support network, we are excited to see what opportunities the future holds.
Check out the full report.