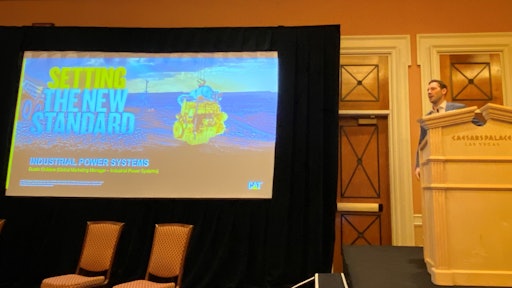 During a press event before CONEXPO-CON/AGG (CONEXPO), Caterpillar announced the development of the Cat C13D, a new 13-liter diesel engine platform, designed to achieve improved power density, torque and fuel efficiency for optimizing the performance of heavy-duty off-highway applications.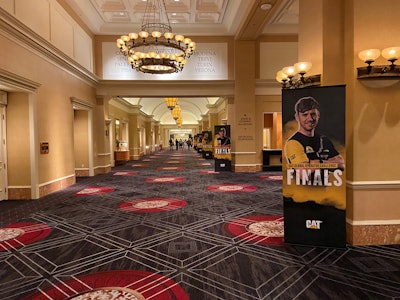 With sustainability a major focus, Caterpillar is implementing batteries and other alternative power sources to help their customers and end users on their journey to zero emissions. However, diesel is not dead. Most power source manufacturers will continue to manufacture more efficient and cleaner diesel engines well into the future. Caterpillar is manufacturing the smaller footprint, lower carbon emission C13D.
"Off-highway original equipment manufacturers (OEMs) and equipment owners face a rapidly evolving business environment that demands improved worksite productivity and reduced operating costs while addressing increasingly stringent emissions standards," said Steve Ferguson, senior vice president Caterpillar Industrial Power Systems. "Internal combustion engines are the prevailing workhorses on most jobsites around the world, which is why we've invested in the next-generation Cat C13D diesel engine platform to address their challenges."
Engineered for reliability and productivity, the inline, six-cylinder Cat C13D engine platform will offer eight power ratings from 456 horsepower (hp) to 690 hp—340 kilowatts (kW) to 515 kW with up to 3,200 Newton meter of peak torque. Engine-mounted aftertreatment and cooling packs will be available from the factory to reduce installation and validation costs. The C13D will meet the emissions standards of higher regulated markets, such as EU Stage V, U.S. EPA Tier 4 Final, China Non-road IV, Korea Stage V, and Japan 2014, with models available for lesser regulated markets.
Power Today
During the press event, Dustin Childers, global marketing manager, Caterpillar Industrial Power Systems, announced the launch of the Cat C13D and discussed how it will help power today by increasing the fuel efficiency of the diesel engine. The smaller footprint C13D provides comparable power and torque when compared to Caterpillar's current 13-, 15- and single-turbo 18-liter engine platforms.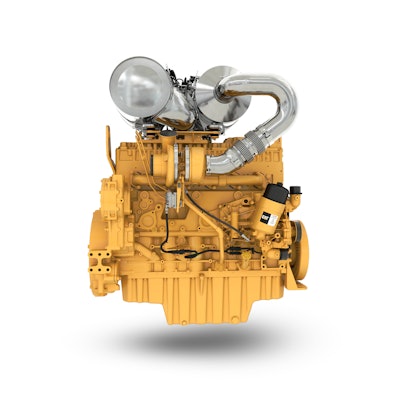 This new engine platform provides an opportunity for OEMs to downsize the engine and simplify the design, assembly and supply chain requirements across multiple applications. This consolidation can also reduce maintenance, parts and technical training complexity for end users, providing a lower total cost of ownership and operation. According to Childers, the C13D will also produce less noise and vibration.
Available for early OEM pilots in 2025 and scheduled for production in 2026, the Cat C13D engine is for off-highway equipment, including rock crushers, screeners, and grinders; trenchers; agricultural tractors, harvesters and self-propelled sprayers; woodchippers; material-handling equipment; and large industrial pumps.
Purpose-Built for Off-Highway Applications
The Cat C13D engine platform has been engineered to deliver the performance, durability, packaging and simplified maintenance demanded by manufacturers and buyers of off-highway equipment.
The new engine platform offers up to a 20% increase in power and up to 25% more low-speed torque over the previous generation of Cat engines in its power class. It is designed to perform at altitudes of up to 12,000 feet, twice as high as legacy Cat engines, and in extreme ambient temperatures as high as 140°F (60°C) and as low as -40°F (-40°C) with aids.
Decreased Service Intervals
Engineers have designed the Cat C13D engine for quality, reliability, and easier maintenance through improvements, including integrating components and reducing the number of leak joints, by more than 45%. Together, the upgrades result in lower fluid consumption and extended service intervals as long as 1,000 hours, reducing operating costs and downtime.
Diesel Alternatives
The Cat C13D engine platform can operate using renewable liquid fuels such as 100% hydrotreated vegetable oil, B100 distilled biodiesel, and even up to B100 standard biodiesel by working with a local Cat dealer. Further, its core architecture is designed for the future development of natural gas and hydrogen fuel capabilities.
Reduced Inventory and Costs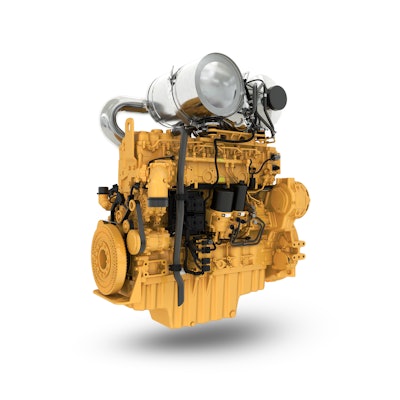 By modularizing and eliminating components, its architecture is space-protected to accommodate configuration adjustments anticipated for future tiers of emission standards in the U.S. and EU without relocating customer connection points. All eight power ratings will be available on a common core engine, enabling OEMs to reduce their inventory and integration costs. The combination of the all-new rear gear train, a stiffer core architecture and common rail fuel system reduces noise by up to three decibels when compared with the C13D's predecessors.
Connectivity
The new engine platform will be equipped with Cat Digital Services, an integrated suite of software and hardware solutions. This connectivity supplies the insight that equipment owners need to make decisions on the fly, secure the health of their equipment and minimize nonproductive time.
See the Engine
Caterpillar will debut the Cat C13D engine and provide additional details about the new platform in the South Hall at Booth S84329 during CONEXPO. If you're attending, visit the booth for more information. If not, get more details on Caterpillar's new Cat C13D engine platform by visiting this C13D page.