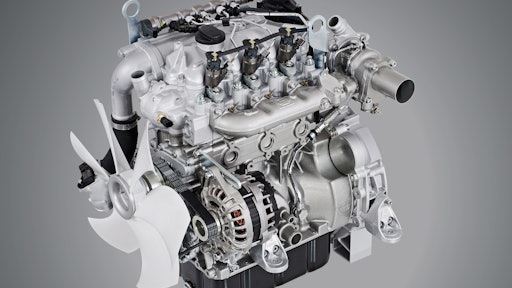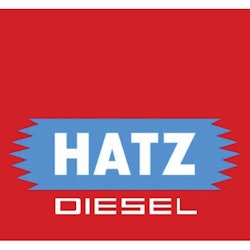 The automotive industry has been successfully practicing the downsizing concept for years. As the first downsizing industrial engine with three cylinders the
Hatz 3H50
with up to 2,800 rpm and just 1.5 liters will replace engines with displacements over 2.5 liters in the future. The torque and response behavior are considerably superior to the present generation. At the same time the fuel consumption values are significantly reduced. This could be achieved, among other factors, thanks to iHACS (intelligent Hatz Advanced Combustion Strategy). Its sophisticated combustion chamber geometry,
Bosch
injection technology, minimized friction and a charge air pressure of 25 psi ensure the right dimension of power in less than a two foot cube. In a word: right-sizing.
Compliant with emission standards
Following the family concepts, the various
3H50
models are also orientated on the currently valid and future emission standards.
The 293-lb. (133 kg) lightweight Hatz 3H50TI doesn't need any exhaust emission aftertreatment. Nevertheless, the engine achieves compliance with the EU Stage IIIA and US
EPA
Tier 4 interim standards in the power range from 25-50 hp (18.6-37.2 kW). Avoiding sulphur sensitive components, the use of diesel fuel with up to 5,000 ppm sulphur is no problem. Higher ambient temperatures in comparison to other 3H50 models are also possible. With a maximum torque of 146 ft.lbs. (66.2 kg) at 1,600 to 2,200 rpm and up to 62 hp (46.2 kW) the Hatz 3H50TI is the top performer of the three-cylinders.
The Hatz 3H50TIC was primarily developed for the US market and Canada as well as some Asian countries. In order to ensure compliance with the emission standards US
EPA
Tier 4 final and EU Stage IIIB, the proven combination of EGR and DOC reduces substances potentially harmful to the environment to the required level – without the need of a DPF. Therefore the engine still achieves up to 56 hp (41.7 kW) and provides a torque of 136 ft.-lbs (184.4 Nm). The additional components add approximately 47 lbs. (21.3 kg) of extra weight.
However, the requirements of the new EU Stage V emission level cannot be fulfilled by diesel engines in this power class without DPFs. In conjunction with a DPF the Hatz 3H50TICD is optimally prepared for future emission standards while performance is the same. Thereby the customized configuration of the Hatz diesel particulate filter system optiHEAT ensures an optimum length between two regeneration intervals.
Open Power Unit: the plug-and-play solution
The Hatz OPU concept is ideal for equipment manufacturers who have less capacity for specification of radiators, tubing and wiring of electronics, due to a tremendous ease of installation. The main application areas are primarily working machines such as hydraulic lifts, hydraulic power units, forestry machinery, drilling rigs and stationary applications such as pumps and generators. All H-series engines are also available as an OPU version. The customer only needs to connect the fuel supply, control box and battery.