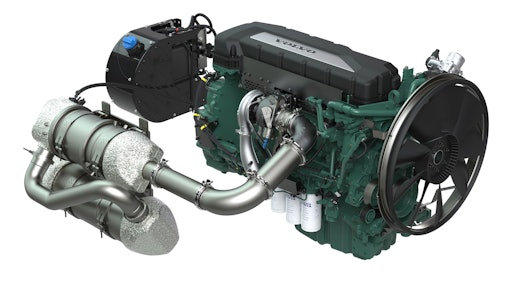 Volvo Penta is announcing a higher power output for its latest 11-L diesel engine, to run at 315 kW – up from 285 kW when it was initially revealed – to provide an even more comprehensive range of uses for customers. The engine will be on display at the TOC Europe material handling conference in Amsterdam, from June 27-29.
The D11 engine was revealed as part of the company's Stage V solution earlier this year, and the new higher power output has been verified thanks to extensive testing. The higher power settings will enable it to be used for a wider range of material handling or other industrial equipment. The engine now has a power output of 235-315 kW, and is complemented by the matching exhaust aftertreatment system (EATS) to comply with forthcoming EU Stage V emissions regulations.
"We have worked hard to ensure that we have a higher power output compared to the D11 engine in our existing range," says Johan Carlsson, Chief Technology Officer at Volvo Penta. "This will add value to customers across the segments in which we operate, including material handling. This is an important segment for us, and I'm pleased that we can help customers use our engine in a wider range of equipment to meet their targets."
Providing the best solution
Volvo Penta's new D11 is part of its off-road diesel engine range and is suitable for a variety of material handling applications such as straddle carriers, reach-stackers, cranes, terminal tractors, and heavy forklift trucks.
"Our international material handling customers have successfully been using our Stage IV/Tier 4 Final engines for many years," says Carlsson. "In partnership with our customers, we help them to keep their total operating costs to a minimum, to secure increased productivity and uptime. Providing excellent fuel efficiency in our engines is very important for us as it contributes to the low total operating costs of OEMs' machinery, and offering good aftermarket support is another key factor in establishing good relationships with manufacturers and operators."
He adds, "One of our customers, Kalmar, set a new world record for reach-stacking when their Super Gloria machine lifted 103 tonnes using one of our Stage IV 11-L engines. Of course, customers who are based in the EU are now looking to the future, for Stage V, and we can provide the best solutions for them."
EU Stage V emissions legislation will come into force in 2019, and will require a reduction in the number of particles emitted in addition to minimizing the overall particle mass, compared to previous emissions stages.
Optimized for tomorrow
Volvo Penta's Stage V solution has been optimized for tomorrow. The powerful and robust 11-L engine has been equipped with a fixed geometry turbo which contributes to reduced complexity. It achieves excellent fuel economy thanks to its efficient common rail injection; maximum power and torque are available at low rpm; and it provides low noise.
Exhaust Aftertreatment System (EATS)
The air inlet throttle, together with the uncooled exhaust gas recirculation (EGR), and the electrical exhaust pressure governor (EPG) deliver highly effective heat management of the engine. This enables the system to function without the need to inject fuel into the exhaust stream to raise the temperature since the exhaust gas has an optimal temperature when it passes through the EATS. Low heat rejection from the complete system means that less cooling is required which further reduces fuel consumption and size of installation.
"With our regeneration strategy for Stage V, we have no seventh fuel injector, as there is no need for high-temperature sulfur regeneration in the SCR catalyst – only soot regeneration is needed to clean the DPF," says Carlsson. "With both the engine and EATS, we have created a reliable and durable solution that provides increased fuel efficiency in even the most demanding applications, and maximum uptime for machine operators. Furthermore, with our extensive network of service centers we can supply assistance quickly, so customers can be assured that we are always on hand to support them."