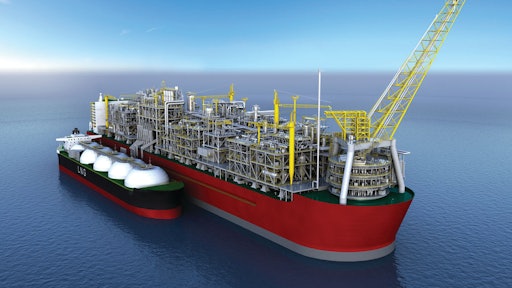 While attending the recent Shell Technology Forum, I was intrigued to learn that the company now produces more natural gas fuels than petroleum-derived ones. Much of the company's focus has been on the production of liquefied natural gas (LNG), a clean burning fuel which is odorless, non-toxic and non-corrosive. Shell has been working with LNG for over 50 years, but thanks to more recent technological advancements, LNG has become a more viable fuel option. Cameron Watson, Global Technology Manager for OEMs and Direct Sectors at Shell, noted in his presentation that just three or four years ago no one thought we'd be where we are today with LNG.
LNG continues to grow in popularity not only for its low emissions benefits, but also because natural gas is in abundant supply. Though it's a non-renewable fuel source, there are several natural gas deposits around the world, and even more are being discovered every day. In a June 2011 article from Business Insider, the United States is said to be one of the top natural gas sources with 6.93 trillion cubic meters of proven reserves, while Russia contains the most with 47.57 trillion cubic meters. According to the U.S. Energy Information Administration, if U.S. natural gas consumption continues as it did in 2011, the natural gas resources in the U.S. should last for about 92 years.
Even with its many benefits, LNG still has its hurdles to overcome, such as developing the necessary infrastructure to refuel LNGvehicles. Shell has been partnering with companies such as TravelCenters of America to construct LNG fueling lanes and new fueling stations. Another hurdle is the lack of available vehicle technologies which can use LNG. Companies like Cummins and Westport have already released LNG engines, and continue to develop additional products; and as LNG becomes more popular, more and more companies are beginning to design the necessary technology.
Learn about more natural gas engine developments:
Cummins Westport Unveiling its ISX12 G Natural Gas Engine at Mid-America Trucking Show
Cummins Developing 15 Liter On-Highway Natural Gas Engine
Volvo Announces Plans to Release LNG Engine
Navistar Demonstrates Duel Fuel Engine
The company was also keen to note that LNG is not the be all, end all solution to our fuel problems. And no one fuel will be; as one Shell executive said during his presentation, what's good for one customer might not be good for another. This is why Shell has also been researching other fuel sources including:
Second generation biofuels
Paraffinic middle distillates
Gas to liquid (GTL)
Hydrotreated Vegetable Oils (HVO)
Algae derived diesel
Nitrogen Enriched Diesel
The company also announced in early September that it will construct an oil sands carbon capture and storage project in Canada.
What are your thoughts on the emerging fuel trends? Do you think LNG will be a good alternative to petroleum-based fuels? What are the challenges you face when developing or integrating alternative fuel technologies?
To learn more about alternative fuels research currently being conducted, check out our July/August Alternative Fuels article.
Companies in this article