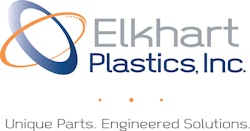 Elkhart Plastics, Inc. adds a line of proprietary DEF tanks to its existing rotomolding capabilities.
"Adding proprietary DEF tanks, spill trays, and valve and venting systems to Elkhart Plastics' already extensive customizable offerings is a great way for our company to meet existing clients' needs, budgets, and timelines while reaching previously untapped clients and markets," says Jack Welter, Elkhart CEO.
Since the implementation of DEF and SCR systems in Europe and domestically, the company has worked to develop custom DEF/Adblue tanks alongside OEMs to provide on-vehicle solutions, working with clients to create unique shapes to fit the end product.
Recently, Elkhart added a line of proprietary "off-the-shelf," fully-integrated, plug-and-play DEF tanks to its inventory. In addition to proprietary tanks, Elkhart has added a line of remote fill solutions of spill trays along with unique and diverse valve and venting systems.
Proprietary tank solutions enable Elkhart's clients to easily configure a tank and header for a variety of applications. Fast lead time custom options allow the company to help solve the most difficult packaging situations.
Elkhart utilizes the most capable header sensors on the market through a unique supplier partnership. These sensor headers measure the temperature and quantity of the fluid level in the tank while monitoring the quality of the urea solution.
Elkhart currently has more than 30 sensor geometries available for custom applications in combination with six proprietary DEF tanks in 5, 10, and 15 gallons sizes in portrait and landscape orientation.