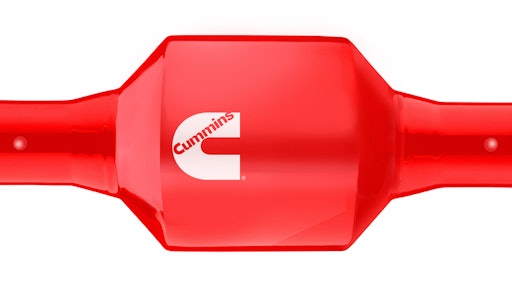 Cummins Inc. will highlight the Tier 4 Interim QSB3.3 engine at CONEXPO-CON/AGG 2011, with a power increase taking the top rating to a new high of 120 hp (90-kW). The improved power curve will further add to the premium performance associated with the 4-cylinder, 3.3-liter engine and will enable enhanced productivity for compact equipment.
The QSB3.3 power increase is made possible due to more efficient combustion realized by the aftertreatment simplicity of the Cummins Compact Catalyst, specifically developed to meet EPA Tier 4 Interim/EU Stage IIIB emissions taking effect Jan. 1, 2012, for the 75-hp to 173-hp (56-129 kW) category. The catalyst captured the attention of the industry when introduced as a fully passive and service-free aftertreatment. The catalyst removes Particulate Matter (PM) by oxidation with simple exhaust flow-through operation. The remarkably small size of the QSB3.3 catalyst - less than 20 inches (500 mm) long - provides a major installation benefit.
The 120-hp (90-kW) Tier 4 Interim rating is one of the highest in the industry for an engine of this size, representing an 11 percent increase in power output above the current Tier 3 engine. This is significant for equipment manufacturers looking to increase horsepower beyond today's top rating of 110-hp (82-kW) while retaining the space-saving benefit and fuel efficiency of a 3.3-liter installation.
"The Tier 3 QSB3.3 set a new power standard as the first off-highway engine of this size to incorporate a High Pressure Common Rail fuel system and full-authority electronic controls," said Chris Calas, Cummins QSB3.3 Product Manager.
"For Tier 4 Interim, the QSB3.3 moves even further ahead of similar-sized engines, with the benefit of a fit-and-forget catalyst. The small catalyst will make a big difference for compact excavators, skid-steers, telehandlers, small cranes, air compressors and many other types of equipment typically used in rental fleets.
"The QSB3.3 has earned an industry reputation for robustness while operating in the toughest applications for an engine of this size. For Tier 4 Interim, the engine builds on a proven platform to provide the same inherent level of durability," added Calas.
The Cummins Compact Catalyst is matched in design simplicity with a cooled Exhaust Gas Recirculation (EGR) system incorporated on the QSB3.3 to reduce Oxides of Nitrogen (NOx). The EGR system is specifically scaled down from Cummins 6-cylinder platform to the compact 4-cylinder, and is driven by a single variable flow turbocharger.
The variable flow turbocharger improves boost across a wider range of engine speeds than a wastegate turbocharger, while avoiding the complexity of dual turbochargers. The combination of cleaner EGR combustion and a more responsive turbocharger enables fuel efficiency to improve by up to 5 percent for Tier 4 Interim, depending on duty cycle.
The QSB3.3 will be a key focus at the Cummins booth at CONEXPO-CON/AGG 2011, March 22-26 in Las Vegas, as part of a full lineup of Tier 4 Interim engines extending from 60-hp to 600-hp (45-447 kW).