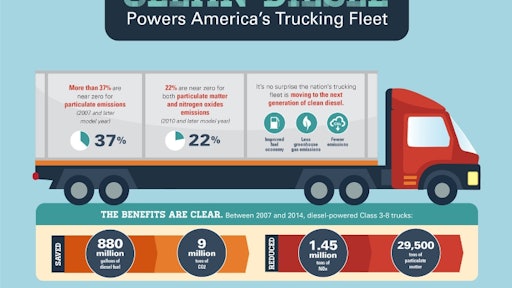 Emissions are going down and fuel savings and greenhouse gas emissions benefits are going up in the nation's commercial trucking fleet as more truckers invest in new technology clean diesel engines, according to new research released by the Diesel Technology Forum.
The new generation of clean diesel vehicles is a growing portion of the total diesel commercial truck population with more than 37% of all diesel medium- and heavy-duty commercial trucks registered in the United States now equipped with newer technology clean diesel engines - those manufactured in Model Year 2007 or newer that have near-zero particulate emissions.
And nearly 22% of all diesel trucks in operation are now the newest clean diesel technology (2010 and later model year) that are also near-zero emissions in nitrogen oxides.
"Today's new generation of clean diesel technology offers better fuel economy and better performance that translates into greater savings for truckers - and cleaner air for all Americans," says Allen Schaeffer, the Executive Director of the Diesel Technology Forum.
"New diesel vehicles are increasing their penetration in the marketplace because they are more fuel efficient, in part, due to meeting the requirements of Phase 1 of the U.S. EPA/NHTSA Fuel Efficiency standards that went into effect in 2014. We fully expect that diesel technology will remain a dominant factor in achieving the President's newly proposed second round of truck efficiency and emissions standards," Schaeffer says.
Phase 2 Efficiency & GHG Standards "Challenge Engine and Truck Manufacturers To Go Even Further in Saving Fuel"
"The proposed rule establishing a second phase of reductions in CO2 emissions and improvements in fuel efficiency announced today [June 19] will challenge engine and truck manufacturers to go even further in saving fuel for customers," Schaeffer says. "Manufacturers will continue to work with EPA, NHTSA and the California Air Resources Board toward a final rule that will enable continued progress in investing in new and more fuel efficient vehicles."
New Diesel Technology Has Resulted In Major Reductions in NOx & PM Emissions
"Our newest analysis of the benefits of the new technology diesel engines conducted by the Martec Group from Detroit, MI found in Classes 3 to 8 vehicles that those on the road from 2007 to 2014 saved 880 million gallons of diesel fuel, and nine million tons of CO2. In addition, the new technology diesel engines contributed substantially to the nation's clean air progress by reducing 1.45 million tons of NOx (2007 to 2014) and 39,500 tons of particulate matter (PM)," Schaeffer says.
"Over the past couple of years there has been a lot of speculation about a 'revolution' in fuels and technology in the trucking industry. The 2014, year-end U.S. truck vehicles-in-use data shows that 9.1 million are powered by diesel engines, and among the largest trucks (Class 8) diesel vehicles-in-use accounted for 3.6 million of the overall population. So it appears that the 'revolution' is that truckers are choosing new clean diesel truck technology in increasing numbers over all other fuel sources," Schaeffer says.
Fuel Efficiency & Reduced Emissions Help Diesels Continue Domination of U.S. Market
"Emissions from today's diesel trucks and buses are near zero thanks to more efficient engines, more effective emissions control technology and the nationwide availability of ultra-low sulfur diesel fuel," Schaeffer says. "The new clean diesel technology has reduced emissions from heavy-duty diesel trucks and buses by 99% for nitrogen oxides (NOx) and 98% for particulate emissions.
"In addition, model year 2010 and later trucks are experiencing an average of 3 to 5% improvement in fuel economy resulting in petroleum reduction equivalent to 21 million barrels of crude oil. Additional fuel-saving strategies are being developed to improve efficiency, including further engine refinements, vehicle aerodynamics and expanded use of hybrid technology for some applications."
Beginning in 2007, all heavy-duty diesel trucks sold had to meet particulate emissions levels of no more than 0.01 grams per brake horse-power hour (g/HP-hr)compared to 1988 models with emissions at no more than 0.6 g/Hp-hr.
Schaeffer says strong truck sales in 2014 translated into increasing percentages of new clean diesel vehicles on the road. For the total category of commercial trucks, 37.7% of Class 3 to 8 diesel vehicles in operation were Model Year 2007 or newer, and 20.6% were Model Year 2010 or newer. Among Class 8 trucks, 38.1% were MY 2007 or newer, and 21.8% were MY 2010 or newer.
The analysis of new technology penetration is based on 2014 data of Class 3 to 8 vehicles in operation (VIO) that were compiled by IHS Automotive in all 50 states and the District of Columbia through December 31, 2014. The Diesel Technology Forum used the VIO data to calculate the top states in registrations and the overall percentages of diesel and natural gas. Benefits (CO2, NOx, PM emissions reductions and fuel savings) were calculated by the Martec Group separately.