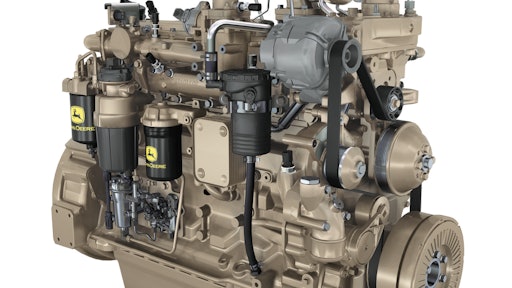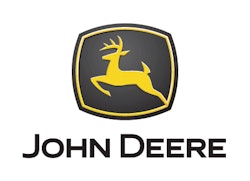 John Deere Power Systems (JDPS) announces that three models in its lineup of 56 kW (75 hp) to 130 kW (174 hp) off-highway diesel engines have been certified as compliant with U.S. Environmental Protection Agency (EPA) Interim Tier 4, European Union (EU) Stage III B and California Air Resources Board (CARB) emissions regulations. The PowerTech PWX 4.5L and PVX 4.5L engines and the PowerTech PVX 6.8L model below 130 kW (174 hp) join the previously certified lineup of engines above 130 kW (174 hp).
"Becoming one of the first engine manufacturers to certify engines in the 56 kW (75 hp) to 130 kW (174 hp) power category provides further evidence that our emissions-reduction solution is the right technology right now," says Doug Laudick, product planning manager for JDPS. "Our OEMs and customers can be confident that we will deliver not only emissions compliance, but also the performance, reliability, durability and low operating costs they expect from John Deere."
EPA Interim Tier 4 and EU Stage III B emissions regulations begin January 1, 2012, for 56 kW (75 hp) to 130 kW (174 hp) engines and require a 90% reduction in diesel particulate matter (PM) and up to an approximate 30% reduction in nitrogen oxide (NOx) from previous Tier 3/Stage III A requirements.
John Deere met the challenge of Interim Tier 4/Stage III B regulations by starting with their proven PowerTech Plus Tier 3/Stage III A engine platform — which includes cooled exhaust gas recirculation (EGR) for NOx control — and adding an exhaust filter for reducing PM. Engines in the 56 kW (75 hp) to 130 kW (174 hp) power range will feature full-authority electronic controls, a four-valve cylinder head, a high-pressure fuel system, wastegate or variable geometry turbocharging and an air-to-air aftercooling system.
"Through rigorous field and lab testing, we ensure that our engines will meet the unique challenges of off-highway applications — including extreme vibration, high temperatures and duty cycles — in addition to new stringent emissions regulations," Laudick says.
In choosing a solution for Interim Tier 4/Stage III B, John Deere elected not to use selective catalytic reduction (SCR). John Deere's cooled EGR and exhaust filter approach provides OEMs and end users a proven solution with the best total fluid economy. Engines featuring cooled EGR take a diesel-fuel-only approach, while SCR-equipped engines utilize both diesel fuel and diesel exhaust fluid (DEF) to achieve emissions compliance.
"For Interim Tier 4/Stage III B, it's important to consider more than traditional fuel economy, equipment users must take into consideration total fluid consumption," says, Geoff Stigler, manager of worldwide marketing support for JDPS.
Ratings for the newly certified models include:
PowerTech PWX 4.5L: 63 kW – 91 kW (85 hp – 122 hp)
PowerTech PVX 4.5L: 93 kW – 129 kW (125 hp – 173 hp)
PowerTech PVX 6.8L: 104 kW – 129 kW (140 hp – 173 hp)