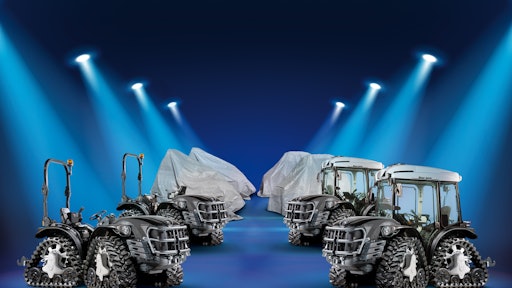 Antonio Carraro announces the introduction of several new products at the FIMA fair, February 11 to 15 2014, in Zaragoza, Spain.
Mach 2: steering reversible twin-track tractor 
Antonio Carraro continues to develop new-concept tracked vehicles suitable to work on rough, muddy or wet terrain. Rubber tracks offer the ideal solution to increase working speed and productivity, as well as to improve vehicle comfort and safety, while reducing soil compaction. After the success of the Mach 4 articulated reversible quadtrack launched on the market in 2008, Carraro has focused on the development of a new prototype of tracked tractor. Over these years, the company has extensively tested and fine-tuned the prototype in order to arrive at Fima 2014 with a totally innovative, ready-for-sale product. The Mach 2 is a steering reversible two-track tractor with rear rubber tracks and 20-inch front tires.
The Mach 2 is designed for use on sloping terrains where constant grip, traction, stability and safety are paramount. The unique tractor's configuration with front steering wheels and rear rubber tracks allows for easy and safe operation even on steep slopes, enabling maneuvers that would be impossible for any other vehicle equipped with conventional tires. With a width of 1,440 mm, a weight of 2,915 kg, a brilliant 87 hp Yanmar engine, a certified speed of 35 km/h, a low center of gravity and a wide range of options to choose from – including the ultra comfortable StarLight cab – the Mach 2 is a unique all-rounder that can suit any farmer's needs and do even the toughest jobs quickly, safely and efficiently.
Like all AC tractors, the Mach 2 comes with an extended warranty (EXG) of up to four years which confirms the field proven reliability of Carraro products.
SRH 9800 Infinity: infinite speeds
The SRH 9800 – the compact, 87 hp articulated reversible tractor with hydrostatic transmission which was finalist at the 'Tractor of the Year 2013' award and winner of the "Intervitis Interfructa Innovation 2013" award – has achieved great success among agricultural operators through its unique features, simplicity of use and working accuracy.
Now, AC presents at Fima exhibition the new SRH 9800 Infinity. On the new version, the gearbox has been upgraded with new functions and the transmission has been improved to provide smooth, seamless speed progressions even when changing loads require the operator to shift on the go. The new Infinity transmission offers two mechanical speed ranges: 'field' from 0 to 15 km/h and 'road' from 0 to 40 km/h. Each range provides three hydraulic speeds that can be shifted on the go through a convenient button without affecting the tractor travel speed. The Eco System allows the tractor to automatically maintain the top speed at low engine rpm, resulting in reduced fuel consumption and lower noise and vibrations for greater operator's comfort. The Infinity transmission, combined with the precision and efficiency of the hydrostatic system, makes the new SRH 9800 a dynamic and versatile tractor with infinite operating speeds. This allows the operator to precisely adjust the speed to the task at hand, making it ideally suited for applications that require the operator to maintain a pre-set travel speed. The SRH 9800 Infinity is equipped with the ESC, a PTO rpm and working speed management system that allows the operator to set the travel speed and the PTO revolutions simultaneously and independently of each other, thereby ensuring optimum and constant performance, regardless of load variations. The SRH 9800 Infinity is a highly-specialized tractor that suits demanding application where precision, compact size, modular design and maneuverability are key requirements.
The SRH 9800 Infinity carries an extended warranty (EXG) of up to four years.
TRX 6400: new engine 
AC relies on a new Italian-made (VM Motori) super-compact engine to power its TRX model of the Ergit Series. This 56 hp engine, that like all engines used on AC tractors features a direct-injection fuel system, delivers high torque already at low engine speeds (195 Nm/1,400 rpm) and top-of-the-range performance. The TRX is a specialized multifunctional tractor tailored to work in confined spaces and on sloping terrains, such as narrow crop rows, large canopy crops, overhead trellis vineyards, steep slopes and terraces. Its compact design, its ultra-tight turning radius and its brilliant engine, combined with excellent stability and constant traction, ensure superior performance even on the toughest terrain. The ergonomically-designed reversible driving position makes work easier and faster, thereby improving operating efficiency and fuel economy. The TRX 6500 can be fitted with a variety of implements to handle a wide range of applications, including plowing, pesticide spraying, fruit harvesting and barn management.
The TRX 6400 carries an extended warranty (EXG) of up to four years.
Tigrone 5800 Jona: a new engine for the leader of equal-wheel tractors
The Tigrone Jona (from the 'Tigrone' range, Best Seller Award of the Year 2012 and 2013) has been updated with a new Yanmar engine in the 50 hp power range equipped with direct-injection fuel system, which has now become a standard feature across the whole AC tractor range and already meets emission standards slated for 2016. This new engine offers high torque already at low engine speeds and industry-leading fuel consumption achieved through a combustion chamber that optimizes the combustion process improving fuel efficiency. Specially designed to work on hills, mountains and in specialty crops where compact size, traction and maneuverability are key, the Tigrone Jona features a power lift with draft control function which, via a mixed position and draft control system, enables a precise and efficient operation of the implements. The spacious and easily accessible operator station and the uncluttered tunnel offer the operator a high level of comfort. The rear fender is equipped with grab handles for improved safety and comfort. The 12-speed synchronized transmission with synchro shuttle offers a wide selection of operating speeds for a variety of applications. The Tigrone Jona comes with four years' extended warranty (EXG).
TGF 9400 S, with new super low profile Protector S cabin
The Ergit S Series comprises four models of reliable, professional tractors based on a tried and tested technology. The TGF 9400 S (87 CV, direct injection, four cylinder, VM engine with turbo intercooler), on display at Fima 2014, is a mono-directional steering tractor with a low center of gravity and larger rear wheels, which is highly appreciated amongst rowed crops in the Mediterranean Basin thanks to its low profile and superb grip on the most difficult terrain. Its compact structure, with the front wheels smaller than the rear ones, offers precise steering and very tight turning.
The choice of cab available for the TGF 9400 S has been amplified: in addition to the super comfortable StarLight, the super low profile Protector S, "sister" of the pressurized Protector 100 (for the TGF Ergit 100), is also now available. The new Protector S cab's special feature is its steel frame with a continual spherically curved profile, without any edges, that with a height of just 1,740 mm allows it to get amongst "Y" rows of dense vegetation, that are accessible by very few super compacts.