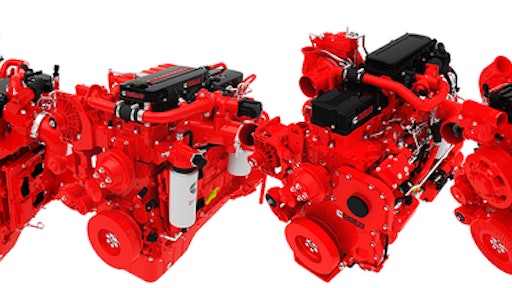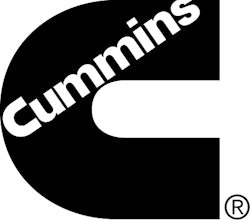 Cummins Inc. has announced that over 400 machine integration projects using the latest generation of Cummins QSF2.8 to QSX15 engines and aftertreatment to meet near-zero emissions regulations are underway. The projects range from 49 hp to 675 hp (37 to 503 kW), with approximately 70 original equipment manufacturers (OEMs) producing machines used in construction, material-handling, mining and other industrial applications.
Cummins moved to full production of Tier 4 Final/Stage IV 6-cylinder engines and exhaust aftertreatment systems in early January 2014. The first equipment models in production were launched at CONEXPO in Las Vegas, with more than 25 new models on display featuring Cummins Tier 4 Final engines meeting the January 1, 2014, emissions regulations for machines rated above 174 hp (130 kW). Production of Tier 4 Final engines will steadily increase during 2014, as new equipment models are released to the market by OEMs.
The lineup of Cummins Tier 4 Final-powered equipment showcased at CONEXPO includes everything from an excavator, drill rig, road planer, bulldozer, paver and telehandler to various types of cranes. Those applications highlight the versatility of Cummins Tier 4 solution to offer a faster machine integration for OEMs, from initial virtual installation to customized power matching, concept install, electronic interface through to performance testing and installation quality audit.
"For Tier 4 Final, we've worked very closely with our OEM customers to ensure the most successful integration of the engine and aftertreatment into their machines, driving the wide diversity of Cummins-powered equipment seen on show at CONEXPO," says Hugh Foden, Executive Director – Cummins Off-Highway Business. "We have done this by minimizing the engine space claim at Tier 4 Final, and by providing multiple aftertreatment configurations to use the available space most efficiently, with both horizontal and vertical configurations.
"Cummins also invested early in Tier 4 integration resources, and has very experienced teams of application engineers in place around the world to work with our OEM customers, not just in North America and Europe, but also in South Korea, China and Japan," adds Foden.
The impressive total of more than 400 machine integration projects underway with OEMs is more than Cummins has ever acquired before an emissions changeover, showing that many OEMs recognize the ability of Cummins Tier 4 Final technology to improve machine performance and reduce fuel use.
Air-In-To Exhaust-Out System Capability
Cummins' ability to provide a complete air-handling-to-aftertreatment exhaust-out system is a further advantage in helping OEMs transition more easily to the Tier 4 Final/Stage IV standards. Having all key technology enablers developed and manufactured by Cummins achieves seamless machine integration with more efficient packaging. Cummins single-source manufacturing capability also brings with it the benefit of a single point of contact for warranty and service support.
The machine integration projects underway with Cummins power include the latest 4-cylinder QSF3.8 and QSB4.5 engines, with pre-production versions supplied to OEMs ahead of the Tier 4 Final effect date of January 1, 2015, for engines within the 75 to 173 hp (56 to 129 kW) power category.