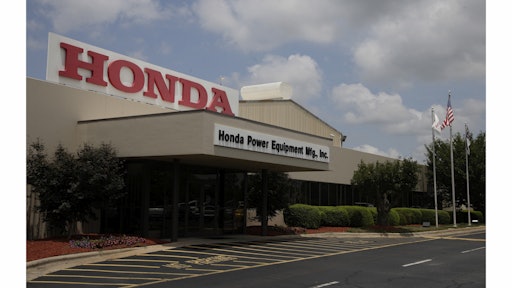 Honda Power Equipment Mfg. Inc. (HPE) has marked the 30th anniversary of operations at its Swepsonville facility by announcing a new $8.5 million investment in plant operations to innovate production processes and add new products. Among other changes, the plant will add a new line for the production of two-stage snow blowers and prepare for the addition of Honda generators to its already diverse production lineup.
The 375,000 square-foot facility, which houses both Honda power equipment production and R&D operations, has long served as a major producer of Honda power equipment products for worldwide distribution, with the capacity to produce upwards of two million premium-quality Honda power equipment products each year. In 2013 alone, more than 400,000 North Carolina-made Honda power equipment products were exported to overseas markets, marking a record for the company. Honda's total investment in its Swepsonville operations is nearly $250 million.
"We are celebrating 30 years of success at Honda Power Equipment Manufacturing because of the everyday hard work of our power product associates in North Carolina," says Takuji Yamada, Honda COO of North American Regional Operations. "Our founder, Soichiro Honda, believed that we could make people happy through technology. Now, many years later, Honda is still focused on using unique Honda technologies to help people get things done."
The Swepsonville plant, which today employs more than 600 associates, has produced more than 30 million products using domestic and globally sourced parts during its 30-year history. HPE is the largest manufacturing operation in Alamance County, which also serves as home to Honda Aero in Burlington, maker of the HondaJet HF120 turbofan engines. Additional Honda operations based in North Carolina include Honda Aircraft Company in Greensboro, maker of the HondaJet advanced light jet, and American Honda Finance Company in Charlotte, which provides financing to consumers who buy Honda products. Honda total employment in North Carolina is nearly 3,000.
Today, HPE is the sole global production source for all Honda GC and GCV general-purpose engines and all Honda single-stage snow blowers. HPE provides these products – vital tools for residential and commercial users – to customers around the world.
HPE is supported by a network of suppliers that provide integral components for manufacturing. Currently, 155 domestic and international suppliers work with HPE; 45 of those suppliers are based in North Carolina. HPE has purchased nearly $500 million in parts from North Carolina suppliers, and the company will continue to work closely with the local community as the Honda business grows.
"Manufacturing power products in North Carolina was once only a dream for Honda," says Shinji Oketani, HPE President. "I am proud that our dream lives on today after 30 years at HPE, as well as our strong desire as a company to make products that help people improve their daily lives."
The Honda power product research and development team also is based at the HPE campus, where most lawn mower, snow blower and several general-purpose engines are designed and developed. Originally based in Ohio, the Honda power product R&D team moved to North Carolina in 1993 to be closer to power product manufacturing. As a result, Honda has greater synergies between development and production teams.