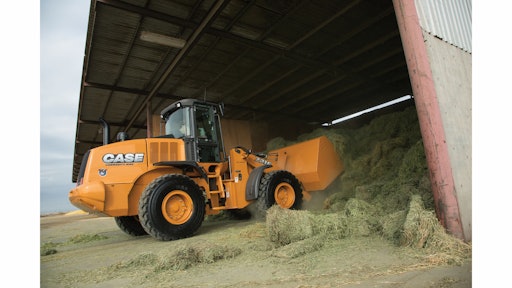 CASE Construction Equipment's 721F Commodity King wheel loader, built exclusively for agricultural applications, weighs in at 32,401 lbs. and operates at a best-in-class 179 hp. CASE has equipped the 721F Commodity King with a selective catalytic reduction (SCR) solution that treats emissions separately with Diesel Exhaust Fluid (DEF) and does not require the engine to re-circulate exhaust gas. This optimizes combustion and machine performance, lowers exhaust temperatures and chances of thermal events, and eliminates maintenance and downtime associated with diesel particulate filter (DPF) replacement and regeneration. There is also no exhaust gas recirculation (EGR) equipment or components to maintain. This is accomplished while also lowering fuel consumption by as much as 20%, and providing excellent throttle response, unrestricted horsepower and powerful breakout force.
The 721F Commodity King features a number of significant enhancements designed specifically for working in hot, dusty and high-debris agricultural applications. This includes the high-efficiency CASE Cooling Cube. This system reduces clean-out intervals and susceptibility to thermal events. It features wider fin spacing that maintains cooling capability by allowing larger particulate debris to pass through the coolers, decreasing build-up. The cooling module cover is also slanted to reduce material build-up and aid in self-cleaning. A programmable auto-reversing fan automatically purges the screens and coolers for less manual cleaning. Additionally, a Sy-Klone ejective air pre-cleaner ensures the capture of larger particles prior to handling by the primary air filter, which results in fewer filter changes. The added sealing around the cooling module also diminishes build-up in hard to reach areas.
Powerful Drivetrain for Excellent Traction and Operation
This model features heavy-duty axles with auto-locking front and open rear differentials for optimal traction in virtually all conditions, including non-compacted surfaces such as gravel. The axle design also helps reduce tire wear, especially on hard surfaces.
An optional five-speed transmission with lock-up torque converter is available for even faster travel speeds, acceleration and shorter cycle times. The transmission includes the CASE Power Inch feature that lets operators approach targets quickly and precisely regardless of engine speed. It also ensures there is no roll back even on steep slopes, making it easier and quicker to dump into a truck. The standard four-speed transmission with manual kick-down capability provides maximum traction and increased bucket penetration.
Configuration and Attachment Options = Versatility
The 721F Commodity King is available in three different linkage configurations: extended reach (XR), tool carrier (XT) or the traditional Z-bar linkage. The XR option provides extra reach and height for truck loading and stockpiling applications, while the XT tool carrier design provides a parallel lift for smooth and steady load and carry applications, as well as excellent visibility.
CASE's patented Ride Control is also available on this model. Ride Control helps reduce the movement of the loader arms for greater material retention/stability and a smoother ride for the operator.
The 721F Commodity King is also compatible with dozens of attachments in all linkage configurations, including high-tip and roll-out buckets, grapple buckets, bale spears and forks.
Improving the Operator Environment and Control
CASE F Series loaders provide one of the largest and most spacious cabs in the industry, and the floor-to-ceiling windows and improved lighting system provide excellent visibility for working throughout the day and night. The machine's advanced instrument cluster (AIC) includes four operating modes and a tri-mode power feature that maximizes fuel economy by allowing the operator to select engine throttle and RPM requirements based upon the task. In addition, Auto Idle, a fuel-saving feature, allows for multiple idle rates, reducing fuel consumption while operators are in-between tasks.
An optional joystick steering system is available to increase comfort/reduce fatigue, and an optional heated air-ride seat is available to further improve comfort. 
The 721F Commodity King is also designed for easy service and maintenance. The machine offers access to most service points without the need for tools, and easy-to-read site gauges, a standard power-tilt hood and ground-level access to most service points further make this model among the easiest to service.
Predictable Operating Costs with ProCare
The 721F Commodity King is covered under CASE ProCare – a suite of product assurances that include a three-year Advanced CASE SiteWatch telematics subscription, a three-year/3,000-hour full-machine limited factory warranty, and a three-year/3,000-hour planned maintenance contract. ProCare allows business owners to invest in new equipment while helping to make owning and operating costs predictable for the first three years of ownership.