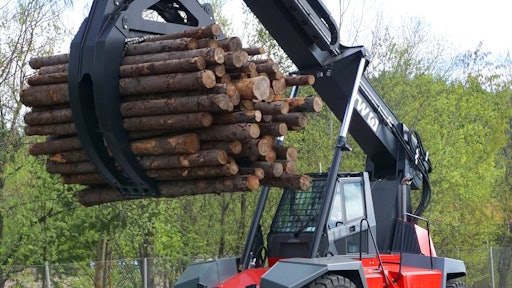 SKS Toijala Works OY, a production company of TW LogStacker, is unveiling the future of forestry, a log stacker powered by Volvo Penta. Like most log stackers, the KURO (RTD12H) features a long reach and a high stacking capacity. But not only is the unique KURO in a weight class of its own with an intelligent capacity of 12 tons, the machine also has a revolutionary hydraulics system that recovers and stores energy from braking and boom lowering for future use.
The new log stacker is installed with an 8-liter Stage IV Volvo Penta engine (TAD852VE or TAD872VE). In its bigger 17- and 31-ton models, TW LogStacker has also recently replaced larger-displacement engines, made by competitors, with Volvo Penta Stage IIIA (outside Europe only) and Stage IV D11 and D13 engines.
"Volvo Penta engines with smaller volumes have more power," says Heikki Korpimaa, Director of Log Stackers at SKS Toijala Works Oy. "We also switched to Volvo Penta to take advantage of working with just one supplier and having a single point of contact. We were very satisfied with the D13 we've been using, so going with the D8 was a natural choice."
Volvo Penta engines also provide the high low-end torque needed for the application, as well as excellent fuel consumption — largely due to Volvo Penta's Stage IV SCR-only solution.
Volvo Penta's research and development team worked closely with the TW LogStacker team on the new machine, providing the company with an initial engine prototype that allowed it to offer input and feedback into engine and software development.
"Cooperation with SKS Toijala Works has been excellent throughout the R&D process of the new KURO log stacker," says Pasi Järvelä, Volvo Penta area sales manager for Finland. "This is an example of the great end results that can occur when we maintain an open dialog with our OEMs from the new product study phase to the launch event."
TW LogStacker was debuted the KURO at Logistics-Transport 2015 in Helsinki June 11 to 13.