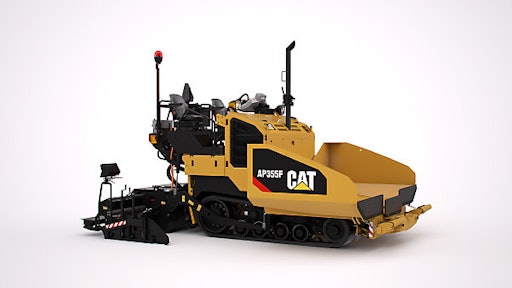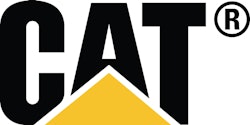 The new the AP300F (wheel-type) and AP355F (rubber track-type) models, additions to the Cat range of asphalt pavers, are designed specifically for efficient production in mid-sized applications, including parking lots, urban streets, cycling and walking paths, trenches, and narrow shoulders. Equipped with new electrically heated SE34 Series screeds, available in vibration-only and vibration/tamper-bar configurations, the AP300F and AP355F are designed with advanced technical features, such as an engine Eco-Mode, auto-fill feeder system, single-touch feeder system activation, and automated travel mode.
Both new models use the Cat C3.3B engine, rated at 55 kW (73.8 hp) and featuring an Eco-Mode and automatic engine-speed-control system that modifies engine speed based on load, resulting in efficient performance, optimum fuel economy and reduced sound levels. The C3.3B is offered in a number of emissions configurations, such as U.S. EPA or EU certified, depending upon the machine delivery location.
The auto-fill system, controlled by a single switch, alternates between auger and conveyor operation to initially build a proper head of material. The auto-feed system, also controlled by a single switch that does the work of four switches on previous models, relieves the operator of the task of manually activating each auger and conveyor. When moving to the next starting point, the configurable travel mode lifts the augers and screed simultaneously to prevent damage from curbs and other obstructions.
Undercarriage design
The AP355F's Mobil-Trac undercarriage features a smooth rubber belt and oscillating bogies that provide optimum traction and flotation, as well as travel speeds similar to those of wheel-type models. In addition, the oscillating bogies serve to limit tow-point movement, resulting in smoother mats.
The AP300F's wheel-type undercarriage provides worksite mobility with fast travel speeds and tight turning capability. The optional front-wheel-assist system provides added pulling power on poor base conditions.
Operating Environment
Operating-console controls are designed to be as simple and flexible—or as advanced—as the contractor prefers. Crews preferring limited options can access an organized, efficient control system, and crews preferring more functions can access various menus through the touchscreens.
A warm-up/clean-out mode operates the feeder system at a reduced speed, enabling more efficient wash-down. The feature also automatically lifts the auger for simplified transport.
The seats can be extended beyond the machine edge for optimum visibility to the truck and auger chamber. Adjustable seating and a single-rail sliding console optimize space and comfort, while the hydraulically retractable hardtop canopy, with extending wings, provides protection in adverse weather.
Screeds
The SE34V (vibration-only) or SE34 VT (vibration/tamper-bar) screed paves up to 4.0 m (13 ft. 1 in.) when fitted to the AP300F, and up to 4.6 m (15 ft. 1 in.) on the AP355F. A reduction attachment narrows paving width to 700 mm (27.5 in.)—ideal for trench work.
A generator powers the electrically heated screed plates, and multiple temperature sensors ensure quick, even-heat distribution throughout the screed plates. An optional feature allows end gates to be electrically heated for improved material flow. For improved mat quality, screed-assist features help maintain consistent pressure to improve smoothness.