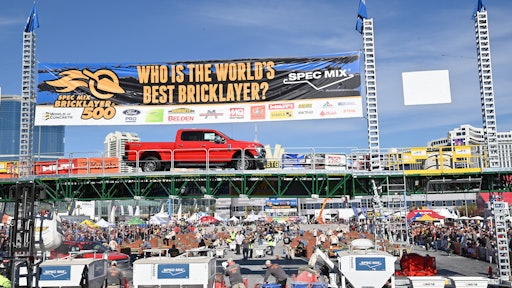 World of Concrete
The only international event dedicated to the commercial concrete and masonry construction industries, World of Concrete will take place from Jan. 16-19 in Las Vegas. With more than 1,300 exhibitors and 50,000 attendees, World of Concrete is one of the construction industry's largest tradeshows, connecting buyers with sellers, creating networking opportunities and showcasing new technologies and products across 500,000 square feet of the Las Vegas Convention Center. The event includes more than 160 educational sessions, as well, offering industry certifications and hard-to-find instruction on new technologies and technical topics.
As those in the concrete industry know, it can be difficult to find expert training in topics such as petrography, mass concrete, fiber reinforcing, 3D printing and even business issues, like defect litigations. In 2023, eight educational sessions will be presented in Spanish. There will also be a three-hour seminar on concrete repair, as well as workshops on business issues such as hiring and decorative concrete techniques, such as staining and stamped concrete.
"Year after year, industry professionals flock to World of Concrete for its highly-regarded education and the unique opportunity to garner technical certifications to help professionals navigate this complex industry," said Jackie James, group director, World of Concrete.
Visit the Outdoor Space
World of Concrete is much more than a classroom, however. Nothing beats the indoor and outdoor demonstration spaces, where attendees can watch, and sometimes try out, the latest construction equipment designed for the concrete industry. The world's prominent heavy equipment manufacturers will be at the show—as will several new, entrepreneurial companies—putting their newest screeds, vibratory plates, breakers and more on display. Many of those will be powered by traditional means, although there will also be many battery-powered models at the event.
Focus on Work Trucks
New for 2023 is a focus on work trucks. Work Truck Live will highlight innovations in the design and configuration of work trucks and accessories that will help contractors increase safety and productivity. Work Truck Live is designed to bring attention to companies that manufacture chassis and supply up-fitting accessories, as well as develop technologies with which contractors can customize their vehicles to the job.
In addition to Work Truck Live, World of Concrete is debuting a Ride and Drive experience that provides attendees the opportunity to test-drive select Class 1- Class 7 vehicles. Approved drivers and passengers experience the feel of the vehicle in a closed, short loop located near the Las Vegas Convention Center. Ride and Drive will take place on Tuesday and Wednesday during World of Concrete.