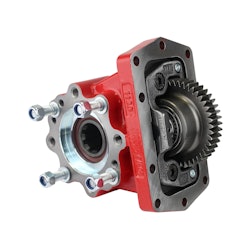 Eaton

Eaton's Vehicle Group's Aftermarket division is displaying its lineup of Bezares Power Takeoffs (PTOs) and other related mobile power hydraulic components at the NTEA Work Truck Week March 9-11 at the Indiana Convention Center in Indianapolis.
Included in Eaton's display at Booth 4081 in the Exhibit Hall are PTOs that are compatible with the new Eaton Cummins Automated Transmission Technologies Endurant XD™ and Endurant XD Pro™ and the PACCAR TX-18™/TX-18 Pro™ automated manual transmissions.
Bezares will have four PTO series that work with these AMTs:
2000 series (bottom mount)
4100 series (bottom mount)
8500 series (bottom mount)
95x series (rear mount)
The Endurant XD Pro is on display in booth 4081, featuring a rear-mounted Bezares 95X Series PTO and FR bent axis piston pump and a bottom-mounted 2000 series PTO and BELA pump.
Also on display is Bezares' recently introduced 3940 series PTO for the Ford® TorqShift® 10-speed automatic transmission. It has a single part number for both gas and diesel engines, and a unique profile that minimizes installation time and allows for direct mounting of high-pressure piston pumps, which is exclusive to the Bezares PTO.
Eaton is the North American master distributor for the Bezares USA mobile hydraulic power Bezares is a global manufacturer of PTOs and other related mobile power hydraulic components.