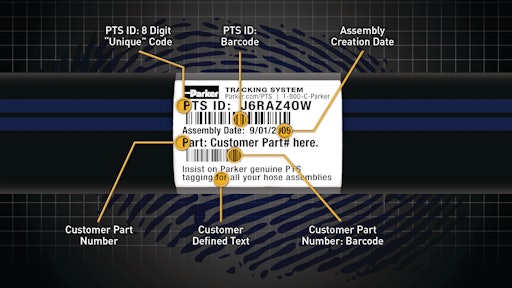 Parker Hannifin Corp., Hose Products Div., Cleveland, OH, introduced its Parker Tracking System (PTS) at 2009's ICUEE trade show in Louisville, KY. The system consists of the PTS software —a Web-based database accessible to Parker, its OEMs and distributors via an Internet connection— and an in-house tag-and-track system which connects the Parker hose assemblies to PTS labels outfitted with ID numbers, barcodes and optional RFID (radio frequency identification) technology.
Each tracking label code is cataloged in the online database allowing a PTS user to capture, record, and later recall the unique hose assembly information when needed. Each database entry holds data including when and where the hose assembly was made; the specific hose, fittings and accessories used; and the length of the hose.
The system uses an auto-generating alpha/numeric numbering system to create a unique PTS ID for each hose assembly, enabling fast and accurate hose assembly replacement. No two assemblies will ever share the same number. The barcode and optional RFID technologies enhance proper part identification and reduce errors. The replacement hose assembly can be ordered and made prior to the original assembly being removed, enabling replacement to occur at the most convenient time.
Using the identification system, owners and operators can eliminate hours of machine downtime allowing for more productivity and profitability.
Benefits
Benefits of the Parker Tracking System program vary between users and OEMs. "For the end user of a piece of equipment or a vehicle, the value is measured in the speed, timing and accuracy of securing a replacement hose assembly," says Doug Honig, marketing services manager, Parker Hannifin - Hose Products Div.
"For OEMs, the benefits include delivering to their customers a more intuitive and traceable fluid conveyance system. It is easy to overlook the value of a hose assembly, until a failure occurs."
Bill Sayavich, business development manager, Parker Hannifin – Hose Products Div. agrees. "It offers valuable and heretofore unavailable insight for OEMs into their equipment performance. Whether they operate a global dealer network, or rely on a MRO distribution like Parker offers, PTS can help to unify the collection and reporting of useful information.
"Today we're talking about fluid connectors but there is no reason this system will be limited to fluid conveyance. We're already talking about adding this capability to seals, filtration and other hydraulic components over time."
Beyond providing insight for the OEM, the PTS provides value to its customers. No matter how reliable a machine is, eventually some part of it is going to fail. PTS offers an easy way to secure a fast replacement.
"All the customer has to do is read the PTS number and call an 800 number. Either the OEM or Parker will direct them to the nearest hose repair location based on their zip code. The customer will provide the PTS number over the phone enabling the replacement hose assembly to be made while driving to pick it up," says Sayavich. "There's no more measuring, guessing or making assumptions about the component. They know exactly how to make the replacement."
Behind the label
The proprietary PTS label design was developed to withstand the various conditions to which hoses are exposed. PTS labels are generated on the spot enabling Parker, the OEM or the distributor to add important information.
The labels were tested for performance in three separate labs, including Parker's state-of-the-art materials lab in Wickliffe, OH. "We tested for extreme cold and heat, prolonged UV exposure and high humidity, and a number of fluid types including fuel, hydraulic fluid, water, Skydrol aviation fluid and others.
"The lab staff tested each label in a variety of equipment designed to simulate aging and extreme conditions. Labels were also submerged in heated hydraulic fluids for extended periods of time to ensure continued adhesion and read performance," explains Honig.
PTS labels will also be offered with EPC Global compliant Gen2 RFID chips, an industry standard.
They are generated using select Zebra printers and RFID encoders. PTS labels are printed through a thermal process, not an ink, and are rated for 10 years of UV protection.