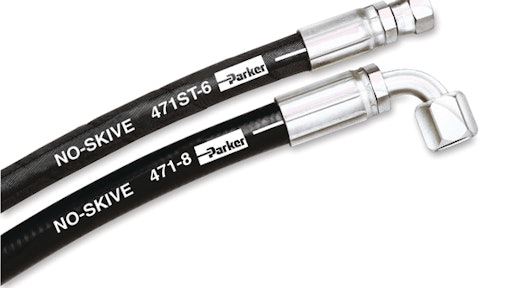 Brought to you by
Here is an excerpt from OEM Off-Highway's February installment of the Fluid Power Series: "The ability to direct energy between pumps and actuators in neat packages has given equipment engineers the freedom to design machines to best suit its intended function... Mounting the pump on the business end of the engine and routing hoses to the actuator means the powerplant can be placed virtually anywhere on the machine, unencumbered by gears and chains."
A high-pressure hydraulic system is only as good as the team of fluid conveyance components that direct it around the machine.
We've asked several suppliers of fluid conveyance products (hose, tubing and connectors) about trends or changes in this part of the hydraulic system.
What are customers asking for?
Dennis Kemper, account application engineer, and Tim Saupe, product application engineer, Worldwide Hose & Connector Product Application Dept., Gates Corp.
OEM customers want leak-free hydraulic hose assemblies that are dependable, eliminate rework expenses, reduce warranty claims and speed up the time to attach the hoses on the assembly line.
To accomplish this, Gates and other suppliers are developing new hydraulic systems with fewer threaded connections, more modular constructions, hose/tube combinations, fewer adapters where possible, and more robust designs for their threaded connections.
In applications where hose-to-hose and hose-to metal abrasion is a problem, careful consideration must be used in specifying sleeving for "Line of Sight" protection. "Line of Sight" protection is becoming more and more important every day.
In addition, environmental issues continue to drive new product developments. Materials are being developed for compatibility with biodiesel fuels from B20 to B100 and temperatures up to 275 F.
Mark Robinson, applications engineer, RB Royal Industries
The primary concerns remain the same from a decade ago: a desire for higher pressure and better flow through a smaller OD product with high temperature and durability characteristics.
Systems are routing more and more through smaller spaces, demanding more from fluid conveyors.
A more recent surge is a desire for quick-connections to reduce assembly time while maintaining a zero-leak environment. Greater use of O-ring seal connectors have also been a part of this trend. Another trend is stronger corrosion resistance, with a greater focus on establishing base-metal combinations which do not form galvanic circuits to avoid creating corrosion conditions in the first place.
Companies are also increasing the level of configuration complexity to have a reduction in leak paths.
Scott R. Kane, global platform manager — mobile, Fluid Connectors Group, Parker Hannifin Corp.
Historically, the fluid power industry has been slow to change, but we are now seeing the beginning of wide spread, accelerating changes driven by the power density demands of evolving industries such as alternative energy.
Today, customers continue to demand more from their suppliers. They request added value like design support and 3-D models of our products. In addition, many are asking for products that are more environmentally friendly, lighter weight, able to handle higher pressures, reduce assembly time and are readily available worldwide.
Very recently, I was approached by a U.S.-based OEM that also builds and markets equipment in China, India and the Czech Republic. They were asking for a recommended global standard as well as availability for their hydraulic port and fluid connector needs. To meet these customer demands, it's imperative that motion and control companies are able to manufacture and supply the products customers need in the same geographical areas of the world that the OEMs are making machinery. It is unacceptable in today's fast-paced economy to wait for a hose assembly or tube to be exported from the U.S.
These are the articulated needs of our customers, the ones they ask us about. We believe, however, that in order to truly move from being a supplier to a trusted advisor in the eyes of customers, manufacturers must also identify the unspoken needs of the customer. Once we understand what the true critical business issues of the customer or market are, we can provide unique solutions that are wrapped around a sound value proposition. At the end of the day, customers don't really care about the product features, they want to know how it benefits them and helps them drive revenue and profitability, while making them more unique in their marketplace.
How has the industry changed in the last decade?
Dennis Kemper and Tim Saupe, Gates Corp.
Gates engineers are seeing the OEMs do a better job of routing, including the elimination of stacked adapters.
"Leak Free" is more than a buzz word. Everyone is trying to eliminate leaks, so we are seeing fewer connections and more use of quick connects, such as the Quick-Lok family of push-to-connect fittings. Where threaded connections are used, the Full Torque Nut design has gained acceptance because it does not tend to back off and leak in transit or in service.
Hoses crimped onto tube lines are a recent addition, as well, because they can eliminate several threaded connections.
Mark Robinson, RB Royal Industries
Synthetic rubber materials have been able to resist higher and higher temperatures. Customers are turning to O-ring seal connectors as the final answer to zero-leak requirements. New plating techniques continue to be developed for steel tubing which resist corrosion far more effectively than their predecessors.
High pressure hoses are being developed with tighter bend radii for routing through confined spaces. To eliminate leak paths, many companies have reverted to using hybrids, the combination of hose and tube.
Scott R. Kane, Parker Hannifin Corp.
These are the major contributors to fluid connector changes:
Advancements in raw materials: sophisticated elastomers that have better fluid compatibilities, temperature handling and extrudability characteristics. An example is the ability to bond two rubber hoses together, as in Parker's 471TC Twin Tough product.
Advancements in manufacturing methods: the ability to go from raw material to finished product in one process.
Adopting companion technologies: using RFID chips, for example, to track the life span of hose assemblies in the field, or adopting a best practice from one portion of the company to another.
Incorporating the voice of the customer: listening to end users of Parker products and understanding their needs helps drive the innovative product development process in directions we maybe wouldn't have thought of a decade ago. It helps us to develop custom solutions for customers that cross multiple disciplines within our company, rather than providing singular, division-specific products.
To view Suppliers chart in PDF format, click here.
Accumulators
Component to play big role in alternative power
A hydraulic accumulator acts as a pressure storage reservoir in which a fluid is held under pressure by an external source such as a spring or a compressed gas to store energy. Compressed gas accumulators are the most common and consist of a cylinder with two chambers separated by an elastic diaphragm, an enclosed bladder or a floating piston.
Accumulators can provide emergency standby power, conserve energy, shorten actuator response times, and be used to supplement pump flow for intermittent high demands. By using accumulators, pump size and horsepower are able to be reduced while the machine is able to produce the same amount of work.
Reusing stored energy for stop-and-go applications creates fewer emissions and helps the mobile equipment to comply with current and future environmental regulations and standards.
Work is being done to increase the maximum operating pressure, currently around 5,000 psi to around 7,000 psi. In order to avoid a larger component, finding materials that are able to handle higher pressures is essential. With larger components comes more machine weight, and using materials such as light weight composites instead of metal reduces overall machine weight and provides the strength-to-weight ratios needed for efficient use in vehicles.
Companies in this article