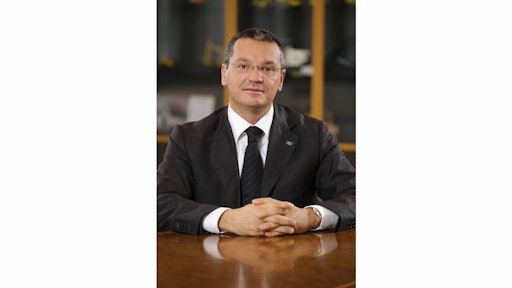 responses by Fausto Carboni, General Manager, Mobile and Wind Solutions Business Unit, Bonfiglioli
What are the emerging economies you see with the most potential for expansion and growth for off-road equipment?
In our opinion, BRIC economies have a great potential, although today the growth rate of all of them is somehow lower than their real potential. We believe MINT (Mexico, Indonesia, Nigeria, Turkey) also have potential, and in fact they have a bigger percent growth potential, but the scale of the market is so much smaller for a start, that it will be hard to compare to BRIC. We expect within BRIC, a good percentage of growth in India due to political stability.
Have the current conditions in Russia/Ukraine or other international/regional situations affected that outlook and opportunity?
Yes, most definitely. Ukraine being a very large agricultural market (one of the largest in Europe) and Russia being a very large market for all the German manufacturers of Ag and Construction machinery, the crisis there has severely affected the result of some of our large OEMs. If the situation does not get sorted out soon we will start seeing the real potential effect. Also, our direct sales into Russia are affected by the current and potential economic sanctions.
What government regulations, standards and/or bills were passed in the past year that most affected your business with off-road equipment manufacturers?
In our case, the only rule that really affects the business is emission regulation. Going from Tier 3 to Tier 4 had an effect in shifting the market demand from one year to another, causing excess of demand and sharp reduction thereafter. The next emission regulation changes will do the same again.
Have you seen an increase in industry consolidation through mergers and acquisitions this year over previous years?
Yes, surely we have seen this in Construction as well as in the Ag market. The reason, in our opinion, is the increased need of resources to design a new range of machines, introduce new innovations, extend distribution networks, etc., which demand larger Company size. It will continue for sure; globalization is a challenge for the small and an opportunity for the big.
What positive or negative effect has the industry's trend toward consolidation and system co-development had on your business model and how you evaluate new projects and opportunities?
In consolidation it becomes very important "who is your Customer." Our strategy has been always to be with the largest possible Customers, accepting the challenges (quality, service level, price expectations) in light of the stability in the long term. We believe this strategy pays off: when large OEMs take over smaller firms, the supplier of the buyers are more likely to stay on board than the suppliers of the bought-out. Other Companies in our business made different choices, and they are suffering for that.
Where is the heavy-duty vehicle industry lagging technologically?
Efficiency, particularly fuel efficiency, is not yet a factor considered enough in selecting mobile equipment, particularly in the small-medium range (up to 100/150 kW). This is strange, because fuel is a very high portion of the vehicle lifetime running cost, and is hardly regarded as a factor. It is a factor in very large machinery, but we have to think that a lot of companies run large fleets of small equipment, and they do not care too much about their efficiency. This costs a lot in the long run, often much more than purchasing a more expensive but more efficient machine.
What technology breakthroughs would help to propel mobile off-road vehicles ahead?
We believe the next technology threshold will be "emission free, noise free, leakage free" mobile equipment, and this is achievable with electric drives. We expect the world of mobile equipment to turn electric in a very large scale, not in the short term but in the medium term future. This will be a game changer.
What current technologies have the most potential for future gains?
Prognostics is still an area to explore in our business, and I believe a promising one. This, is in conjunction with telematics.
What technology are you waiting for that would allow you to develop your next generation of product?
As we said before, electric transmissions to be developed vs. hydrostatic. The key factor is of course energy pack, so either a strong development of batteries or the real growth of alternative systems (i.e, range extenders) that may bridge the gap until batteries are developed at the level needed by mobile equipment.
What new challenges have arisen that effect how you design and manufacture your product, how you do business and/or how you go to market?
Low cost countries competition has occurred in some areas, and globalization of our customer base has changed the rules to "go to market" for us. This means we had to move from a "produce and export" strategy to a "local for local" strategy and this is putting our organization under a very high stress, but a positive one since we will be a better and stronger company once the process is completed.