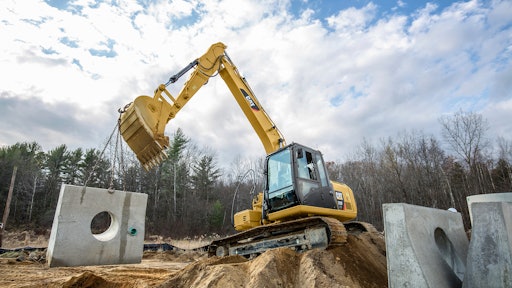 While hydraulics technology has been available to leverage for decades, in recent months its prominence as a fuel saving solution has come to the forefront, whereas in years past, the primary driver of fuel savings has been noted as the engine system. Part of this change has to do with the technical savviness of consumers and equipment purchasers. The prevalence of computers, smart phones and touchscreen interfaces, for example, are helping more people understand technology and its benefits.
"Some owners may care about the hydraulics, and some may not, but they do understand productivity advantages, and any system that can help improve fuel efficiency and productivity is going to be investigated," says Craig Klocke, Director, Development & Support - Integrated Solutions, Danfoss Power Solutions. "If improvements in fuel efficiency and productivity are due to a hydraulic hybrid system or smart components, end users are starting to want to better understand how the OEM was able to achieve more machine performance."
Interestingly, Klocke notes that there is a threshold for an operator to "see" performance improvements. "We have had many OEMs tell us they need double digit increases in things like cost and fuel savings through productivity improvements in order to sway a purchaser," he says. "There is a threshold where fuel efficiency and productivity improvements, even if an engineer can measure and repeatedly show those savings, has to be a significant enough that the end user can see it without sophisticated laboratory equipment."
And, while hydraulics help to improve machine performance and efficiency, it also reduces space claims. The existing Tier 4 and upcoming Tier 5 emissions regulations are adding the need for additional components and systems, like a DPF, to provide performance, driveability and fuel economy requirements. "Space claims are becoming more of a challenge and sometimes can drive design decisions ahead of things like cost and efficiency, surprisingly.
"Hydraulics is power dense and thus takes up less space to transfer the same amount of power as some other technologies, adding to its viability as a solution," Klocke says. For example, on the Caterpillar 313F L GC hydraulic excavator, a pilot manifold in the valve block eliminates the need for a pilot pump, filter or lines. The simpler machine design also contributes to lower owning and operating costs.
This shift in hydraulic system significance is also due, in no small part, to the stricter emissions regulations. "With Tier 4 already in place and Tier 5 coming, many designers of machinery are looking at how they can solve their problems; and hydraulics is the answer," says Klocke. "The new engines are driving a real focus on the entire powertrain—from the engine through the transmission to the tires—and providing more productivity, which is sometimes more important than efficiency. Our products and the smart systems we have like ECO Mode, fan drives, and electrohydraulic steering help automate and simplify the work of the operator and also improve the machine's productivity."
Optimizing engine power
The engine emissions and Tier 5 are driving the sweet spot for the operating speed range of engines to be much narrower than it was in the past. Where an operator may have previously been able to change the engine speed to slow down the vehicle or change its responsiveness, that is now being managed by the engine control unit.
"The new emission requirements narrow the optimum engine peak range, so the advantage of an infinitely variable transmission is even more important. Hydraulics is a solution that can provide that, whether it be as a pure hydraulics solution or a hybrid," says Klocke.
"With the change in the operating points of the diesel engine, available horsepower and torque—with attempts at saving fuel by operating at lower engine speeds or with downsized engines to avoid exhaust emissions—machine builders have had to be creative about running more variable hydraulics systems so as to keep engine speeds in more optimum ranges to address the exhaust issues," says Terry Hershberger, Director Sales, Product Management - Mobile Hydraulics, Bosch Rexroth Corp.
"There are several ways that hydraulics system manufacturers provide ways to optimize an engine's performance," continues Hershberger. "Variable fan drive systems versus a mechanical connection help the machine reach optimum cooling without being directly connected to the engine speed. Start-stop technology stores energy in accumulators that can be used to help start an engine so the machine is not sitting idle while loading. And, power assist technologies keep a constant load on the engine by using a hydraulic pump to store the excess energy in an accumulator during normally lean cycles on the engine, and then uses that stored energy when under heavy peak loads."
The balance of cost and intelligence
As the technology and possibilities go up, so too does the cost. Depending on the machine size and what the OEM designer needs, hydraulics offers a lot of different options. "The trend is definitely to more electronics," says Klocke. "The more expensive machines can justify the increase in cost of electronics and smart systems. But, price point is a big factor, and end users don't want to pay more tomorrow compared to yesterday.
"Meeting emissions regulations makes a higher price tag necessary though, so the difficulty is getting to that break-even point where you have high enough volume or low enough cost that you can be competitive and provide a solution that makes money for our OEM customer and the end user. That is the challenge: To develop a technology to be cost effective and provide a return on investment."
With the high cost of newer engines, investing in variable rate hydraulic technologies to optimize engine performance is now an attractive and viable option for many OEMs. "The great thing about hydraulics is there is a stepped evolution of technology," Klocke explains. "You can start with gear pump and motors that are simple and cost effective, but without variability. When you move to axial piston products you have a variable swashplate. Then you move up to a servo-control pump, to a variable motor with a gearbox, all the way to infinitely variable transmissions.
"In general, there will always be a trade-off of cost and performance, and simple and complicated. The dynamic nature of the industry impacts the decision making process of our customers and how they design and build their machine," says Klocke.