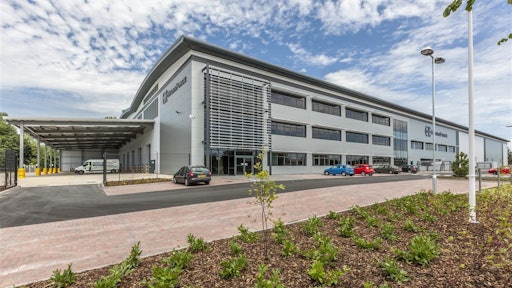 HydraForce, an international manufacturer of high performance electrohydraulic controls, has moved into a brand new, 11,150 sq. m./120,000 sq. ft., purpose-built facility in the Advanced Manufacturing Hub at Aston Hall Road, Birmingham.
"Our move is right on schedule with no interruption in production," says Peter MacDonald, U.K. Managing Director. "We'd like to thank the Buckingham Group Contracting Ltd. for their efforts to complete construction of our new building so that we could take occupancy in August as planned. We are very pleased with our new place and look forward to showing it off to our customers and the community in September."
The three-story building has production and testing areas on the ground floor, engineering and sales offices and training areas on the first and second floors. There is also a new 465 sq. m./5,000 sq. ft. application engineering lab.
HydraForce's substantial investment in the new premises comes just a year after announcing its intention to grow after securing £1.8 million from the British Government's Regional Growth Fund. The new facility adds an additional 7,000 sq. m./75,000 sq. ft. of manufacturing capacity, providing the company with much-needed capacity to build electrohydraulic cartridge valves and other products localized for the European market.
HydraForce, which celebrated 25 years in Birmingham last year, is the first tenant of Birmingham's Advanced Manufacturing Hub at Aston Hall Road, one of six economic zones identified by the City Council to drive Birmingham's future growth ambitions*.
The privately-owned company operates a total of five manufacturing facilities, including the new facility in Birmingham, its corporate headquarters, innovation center and precision machining center in North America and a manifold assembly plant in Asia. The previous HydraForce facility at St. Stephens Street in Birmingham will be sold now that everything has been moved to Aston Hall Road.
"Our new building in the Advanced Manufacturing Hub builds on the success of our last expansion – the Innovation and Technology Center in Chicago, which opened in 2013," says Tony Casale, Vice President of Sales and Marketing Worldwide. "Our facility in Birmingham will improve speed to market, not just to the United Kingdom, but throughout Europe. This is important to our growth in the region as more than 80% of the product we build in Birmingham is exported." 
"Thanks to the diversity of the markets we serve, we are experiencing a general increase in demand for our line of compact, efficient control products," explains Mark Wilson, Director of Key Accounts. "Cartridge valves are a very specialized niche in the hydraulic control market and much of our work is custom-engineered for the specific needs of the customer's machine. That takes a unique kind of expertise." 
HydraForce's highly skilled and motivated workforce is a key reason for the business's resilience and growth, adds Peter MacDonald. "Many of our staff have been with us for years, and we value their knowledge and expertise very highly. The Advanced Manufacturing Hub was the ideal site for us because it's logistically well placed -- only three kilometers from our previous location at St. Stephen's Street --  which made it relatively easy for our staff to move with us," adds MacDonald.
The company's expansion also means an increase in job opportunities. "Attracting the right people with the right skills at the right time is an on-going challenge, but we have a well-established apprenticeship program and strong links with higher education. Being located in the Advanced Manufacturing Hub can help our recruitment strategy," says MacDonald. Employment at HydraForce in Birmingham is expected to increase from 280 to 500 people by 2018.
HydraForce president, Jim Brizzolara, adds, "We are delighted to witness this new stage of growth for HydraForce in Europe. Whether we build in Birmingham, Shanghai or Chicago, our customers can expect the same level of innovation, quality and responsiveness. We are all part of the same family. This new location in the Advanced Manufacturing Hub will help us bring new electrohydraulic technology to the European market faster than ever before. It improves our global efficiency and give us a solid base for continued growth in Europe."
* The Advanced Manufacturing Hub is one of six economic zones in Birmingham. The zones: advanced manufacturing; business & professional services; creative & digital media; life sciences; food & drink; IT, electronics & communications (ITEC) will provide growth environments for key sectors.