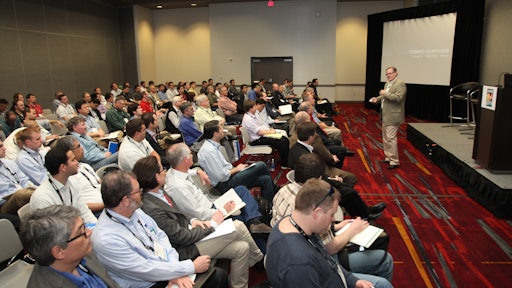 IFPE 2017 will host the fluid power industry's prestigious Energy Efficient Hydraulics and Pneumatics Conference (EEHPC) in addition to offering hands-on "college course" education on the effective use of hydraulics in mobile equipment.
"We're pleased that the EEHPC conference will be held in conjunction with IFPE to bring an added dimension of fluid power education to the show. Industry professionals will benefit from the additional knowledge-sharing and networking," says Bob Mortensen, IFPE 2017 Chair and President Off-Highway Division of HUSCO International.
The EEHPC focuses on concepts and techniques to keep fluid power (hydraulics and pneumatics) systems operating at peak efficiency to reap significant energy savings.
The conference traditionally includes a "future of fluid power" program, which at IFPE 2017 will explore robotics challenges and opportunities.
The EEHPC is sponsored by the National Fluid Power Association (NFPA - IFPE co-owner), the FPDA Motion & Control Network, and the International Fluid Power Society.
Four half-day IFPE "college-level courses" will emphasize hands-on technical knowledge on the effective use of hydraulics in mobile equipment: (1) fundamentals of hydraulic systems; (2) hydraulic fluid properties, efficiency and contamination control; (3) hydraulic system design strategies for mobile applications; and (4) electro-hydraulic, systems design and control.
IFPE focuses on the latest innovations, product advances and expert insights to fully equip engineers and others involved in the design and manufacturing process to increase efficiency, contain costs and improve the performance of their hydraulic and pneumatic systems and applications.
Attendees will also have access to the new 75,000-plus sq. ft. Tech Experience showcasing the ideas and technologies that will transform construction in the future. IFPE has teamed with CONEXPO-CON/AGG to bring to the Tech Experience the world's first fully functional steel 3D printed excavator, featuring fluid power innovations.
IFPE and the co-located CONEXPO-CON/AGG exhibitions will be held March 7- 11, 2017 at the Las Vegas Convention Center in Las Vegas, NV, USA, targeting the fluid power/power transmission/motion control and construction and construction materials industries.