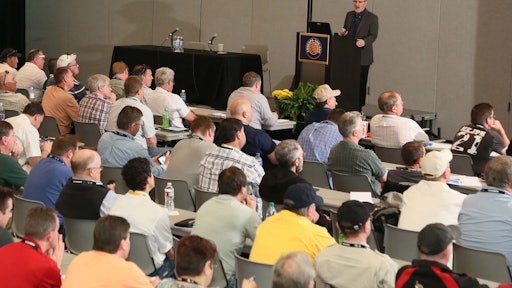 CONEXPO-CON/AGG 2017 will offer a record 143 education sessions across 10 tracks, including a new Technology track, to provide attendees with the latest industry knowledge and best practices to improve their professional skills and company productivity.
"Education is a critical component of CONEXPO-CON/AGG, and we encourage attendees to take advantage of the convenience of so many learning opportunities available; they'll be able to work smarter because of the knowledge they gain here," says Rich Goldsbury, CONEXPO-CON/AGG 2017 Chair and President of Bobcat Company and Doosan.
The new CONEXPO-CON/AGG 2017 Technology track focuses on industry innovations and future growth opportunities in the technology field, including drones, autonomous machines, 3D imaging, smart apps, gamification, big data and IoT.
The technology track complements the new 75,000-plus sq. ft. Tech Experience showcasing the ideas and technologies that will transform construction in the future.
CONEXPO-CON/AGG 2017 education tracks will also offer the latest trends and best practices focused on: aggregates; asphalt; concrete; cranes, rigging & aerial lifts; earthmoving & site development; equipment management & maintenance; management: business best practices; management: workforce development skills; and safety & regulations.
CONEXPO-CON/AGG 2017 will feature a record 2,500,000-plus net sq. ft. of exhibits of the newest product innovations and technologies to increase productivity, reduce downtime, and enhance safety and sustainability.
CONEXPO-CON/AGG and the co-located IFPE exhibitions will be held March 7- 11, 2017 at the Las Vegas Convention Center in Las Vegas, Nv, USA, targeting the construction and construction materials and fluid power/power transmission/motion control industries.