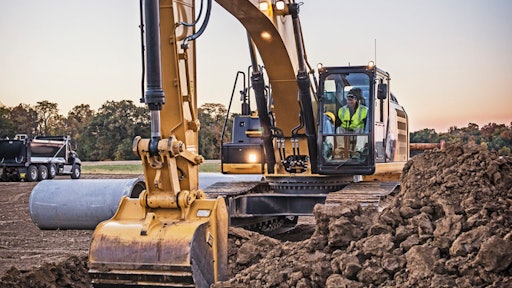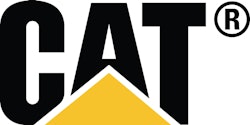 Caterpillar Inc. unveiled the first model in its new line of hybrid excavators, the Cat 336E H, at its Mossville Industrial Design Center on October 16 at a special trade press event, "The Next Generation is Here." The new 336E H will be sold and serviced exclusively through the global Cat dealer network following the machine's official launch at bauma 2013 in Munich, Germany. The order board for the Cat 336E H opens in February 2013, with factory shipments beginning in March 2013.
The Cat 336E H uses a new hydraulic hybrid technology developed by Caterpillar. "A hybrid is independent of any particular technology—it doesn't have to be electric," says Ken Gray, global product manager for large hydraulic excavators for Caterpillar's Excavation Division. "There are many ways to store and reuse energy, including our patented hydraulic hybrid system featured on the Cat 336E H."
"Caterpillar has developed, built and tested electric hybrid excavators, but—until now—we had not found a hybrid approach that would actually lower our customers' owning and operating costs," Gray says. "Large excavators operate in high-production applications in which fuel is a very significant operating cost for our customers. So, the 336E H, the hybrid version of our workhorse 336E, is ideal for introducing our new hydraulic hybrid technology, with its more than 300 filed patents."
"We can't wait to see the reaction of our customers to the 336E H," says Gray. "We're confident they will be delighted. No other commercially available technology has higher power density than hydraulics, and that's why we selected a hydraulic solution to help our customers achieve substantial fuel savings. The 336E H also meets stringent Tier 4 Interim/Stage IIIB emission standards. It is extraordinarily quiet, too. So it's a socially responsible machine for our customers to own, and they will sacrifice nothing in terms of performance, power, force, speed or production. Once more, the owning and operating costs for the 336E H are actually lower than the standard machine. That's the value customers expect from Cat excavators."
"The 336E H is a game-changer—the most revolutionary excavator to come to market in decades," says Gary Stampanato, vice president of Caterpillar's Excavation Division. "Customers aren't going to choose the 336E H simply because it is sustainable. They will select it because it actually lowers their owning and operating costs, and maintains the performance of our industry leader, the 336E. Caterpillar has the most productive and fuel-efficient excavator product line in the industry, and our customers are supported by the best dealers in the world. The 336E H extends our leadership, is the right thing to do for our customers and is a sign of great things to come.
Technology
"Caterpillar's corporate technology strategy centers on research and development in advancing technology to meet customers' needs today, which is what the 336E H does," says Tana Utley, Caterpillar's chief technology officer and vice president of the Product Development and Global Technology Division. "We're also continuously working on innovations that we anticipate will meet their future needs. That's why we're continuing our research and development in electric hybrid technology too, which actually began our hybrid development path several years ago."
"Caterpillar has an extraordinary team of people working on hybrid technology solutions for the next generation of Cat hydraulic excavators," adds Gray. "They are from every corner of the world, are among the very best and brightest minds, and they are listening very closely to our customers. It's exciting for me to see their enthusiasm for this project and the quality product they have developed in the 336E H, and we're just getting started."
"I am absolutely confident our engineers will continue to discover and develop the best hybrid approaches for Caterpillar's extensive line of equipment and applications, whether that's some form of hydraulic or electric hybrid system or something as of yet unknown," Utley adds. "At Caterpillar, we don't simply engage in creating new technologies like the hydraulic hybrid system just for technology's sake, or simply to prove that we can. Our technology strategy's focus never loses sight of what our research and development efforts can mean to our customers' success—today and in the future."
Since the introduction of the 300 Series in 1994, the family of excavators has become the industry standard in a large variety of general, quarry and heavy construction applications. Caterpillar introduced the standard 336E in 2010 as a direct replacement for the 336D. The 336E was introduced primarily to meet Tier 4 Interim/Stage IIIB emissions standards, and like any new Cat machine, the 336E includes several enhancements over its predecessor, including more horsepower with greater fuel efficiency, more lift capability, higher digging force and automatic aftertreatment regeneration.
The 336E H has all of the same powerful advantages of the 336E with the biggest difference between the two models being even greater fuel efficiency. To achieve added fuel savings, the design of the 336E H uses three building block technologies that:
1) Conserve fuel with engine power management via the Cat Electronic Standardized Programmable (ESP) pump, which smoothly transitions between the hydraulic hybrid power sources, engine and accumulator.
2) Optimize performance using restriction management via the patented Cat Adaptive Control System (ACS) valve, which intelligently manages restrictions and flows to seamlessly control machine motion with no loss of power, and to ensure operators experience no difference in control, hydraulic power or lift capability.
3) Reuse energy via the hydraulic hybrid swing system, which captures the excavator's upper structure swing brake energy in accumulators, and then releases the energy during swing acceleration.
Fuel Savings
The 336E H delivers industry-leading productivity with up to 50% greater fuel efficiency, which is measured in tons per liter, over the 336D. Customers can expect the 336E H to use up to 25% less fuel compared to a standard 336E, and up to 33% less fuel than the 330/336D. All three of the technology building blocks, Conserve, Optimize and Reuse, are integrated together to maximize fuel savings in a variety of applications. Even in low-intensity swing applications, customers will still experience significant fuel savings because of the Conserve and Optimize technologies. (Additional factors, such as operator skill and jobsite conditions, also affect fuel savings.)
Return on Hybrid Investment
Because the 336E H burns less fuel and reduces regulated engine emissions, owning and operating costs will be dramatically lower compared to the standard machine, and its carbon footprint will be smaller, as well. Precisely when customers will recoup their initial investment in a 336E H depends on fuel prices and their applications. Assuming today's fuel prices and a high-production application for a 336E H, Caterpillar estimates customers can realistically expect to see a return on their investment for the hybrid excavator model in as little as one year.
Durable and Reliable
Caterpillar designed the 336E H to deliver the same durability and reliability customers expect of all Cat machines, including large excavators like the standard 336E. The design of the 336E H uses Cat hydraulic components with a long track record of proven durability and reliability for maximum uptime and productivity. Also like a standard machine, 336E H components can be replaced or rebuilt to maximize the hybrid's service life.
Validation
Customers have been using field follow machines, which are first production machines built for customer acceptance testing, to validate fuel burn, controllability, reliability and performance of the 336E H. In a formal production study completed in August 2012, results were impressive, including greater fuel efficiency, and lower cab and spectator noise levels than the 336E and 336D. Additionally, the ACS valve, which intelligently manages restrictions and flows to seamlessly control machine motion, has been in the field since 2008 with superior performance and reliability. The ACS and hybrid system have also proven to work well together to maximize performance and controllability of work tools, including hammers, shears and grapples.
Product Support and Dealer Readiness
Customer support for the 336E H is provided exclusively by the on-the-ground support of Caterpillar's worldwide dealer network. For decades, Cat dealers have made significant and substantial investments in facilities, people and expertise to support Cat excavators, including the new 336E H. Cat dealers know and understand hydraulics, and are prepared to consult with customers to help determine which Cat excavator model, whether hybrid or standard, is the best match for a customer. Dealers are also equipped with tools developed by Caterpillar that help them weigh factors into their recommendations, including a customer's projected equipment use, budget and anticipated years of ownership to help ensure the proper decision. The 336E H can also be bundled with extended warranties and service contracts.
Caterpillar Position on Technology
According to Utley, it is the company's vertical integration and broad technology portfolio, coupled with its wide range of application experience that enable Caterpillar to select and develop the optimal technologies for each Cat machine and varied customer applications. "Our commitment is to match technologies to customer value," she says. "That means Caterpillar will include hybrid elements in machines where it is evident those elements are the most efficient and effective means of improving value to our customers, which is definitely what we've done with the 336E H."
"Hybrid technology is a key element of our customer-focused technology portfolio, and so are our next generation powertrains, autonomy, alternative fuels, and engine emissions and efficiency," Utley adds. "The new hydraulic hybrid technology Caterpillar developed for the 336E H is an outstanding example of the results we're achieving from our technology strategy. It provides a critical bridge as we continue to research, develop and build the technologies of the future—technologies that will help ensure our customers' business success."