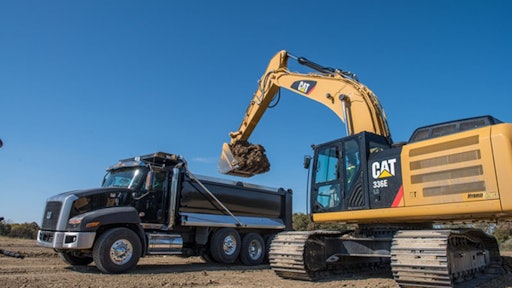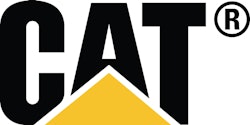 In its continued commitment to introduce products that bring the most value to customers, Caterpillar Inc. has unveiled the first model in its new line of hybrid excavators. The Cat 336E H is the company's first machine to use a novel hydraulic hybrid technology developed internally by Caterpillar. Field tests have demonstrated this machine will significantly lower customers' owning and operating costs.
"The 336 excavator – a recognized industry-leading workhorse in our product line – made the most sense as our first choice for applying the unique hybrid technology," says Gary Stampanato, Caterpillar vice president with responsibility for the Excavation Division. "The new 336E H hybrid uses as much as 25% less fuel than the standard 336E, without sacrificing performance. No other hybrid machine in its class in the market can achieve these dramatic savings. Since fuel is one of the largest operating costs for our customers in general, quarry and heavy construction applications, this is a technology that directly improves their bottom lines."
Caterpillar defines a hybrid machine as one that is equipped with a device to collect, store and release energy during machine operation. The 336E H captures energy when the machine slows down or stops, and then releases it as the machine accelerates. On a typical job site, an excavator may repeat the same cycle every several seconds, which represents a significant energy savings opportunity.
Hybrid technology is just one of the core focuses of the company's technology strategy. With the introduction of this machine, Caterpillar found a solution that is more productive and substantially lowers owning and operating costs. Burning less fuel leads to fewer emissions and a smaller carbon footprint than the standard 336E.
"Our technology strategy centers on research and development that meets environmental and customers' needs today and into the future," says Tana Utley, Caterpillar's chief technology officer and vice president with responsibility for the Product Development & Global Technology Division. "We use our deep bench strength in core technologies and our vertical integration to develop the right technology at the right time to help the business and our customers win. The 336E H technological advancements, with its more than 300 filed patents, is a testament to the strength of our strategy and the talent of our people."
The official launch of the Cat 336E H occurs in April 2013 at bauma, the world's largest construction equipment show in Munich, Germany. Cat dealers will begin taking orders in February 2013, with factory shipments beginning the following month.
Caterpillar also recently announced the development of the first hybrid mining machine, the Cat 6120B H FS. The hybrid hydraulic front shovel was introduced in late September, and is expected to significantly cut fuel use through the use of hydra-electric regenerative technologies and a unique energy storage system. Order and delivery information about the 6120B H FS will be announced as development progresses.