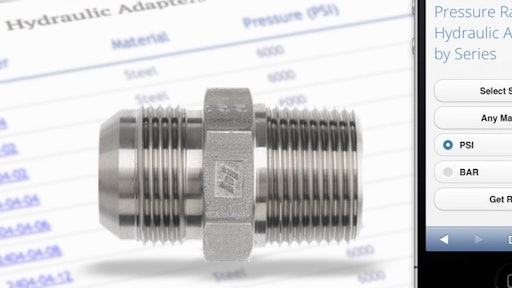 Brennan Industries Inc. expanded its mobile application that provides easy access to the Brennan product catalog and product cross-reference tool, to include pressure ratings for more than 6,000 parts in more than 330 popular series.
The mobile app, optimized for iPhone and Android devices, now includes pressure ratings in PSI or bar units for many Brennan products, as well as the ability for users to search for ratings by series or part number. The mobile app, originally introduced in 2012, gives users quick access to more than 30,000 Brennan products, product comparison information and the company's contact information.
"Pressure ratings are important for our customers' applications, so putting that information at their fingertips is one way that Brennan can make their jobs a little easier," says Bill Jarrell, Vice President of Marketing and Operations at Brennan Industries. "Especially when they are using their smartphones out in the field."
The pressure rating product search is also available on mobile and desktop browsers by visiting brennaninc.com/pressure-ratings/ directly as well as through the mobile app which is available at brennaninc.com/mobile.
The app features an easy-to-navigate product catalog that is broken down by categories and includes specifications for each product. The app also offers a product cross-reference tool that allows users to compare Brennan products side-by-side with competitors' products to determine the best value. Users who want more information about Brennan or how to contact the company can find their nearest location, contact phone number and email address and a Brennan overview video conveniently through the app.
View the demonstration video of this new feature.