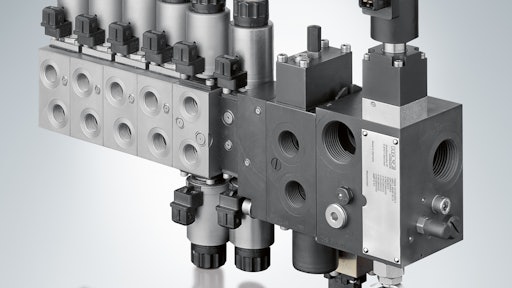 With the new variants of its PSL type proportional directional spool valve HAWE Hydraulik SE, Munich, realizes all hydraulic functions of a silage trailer, from straightforward positioning to demanding drive functions. The valves convince with a compact built while the use of twin solenoids reduces wiring.
These valve variants connect the silage trailer's hydraulic system to the tractor's supply system, no matter whether the tractor is fitted with a constant or a variable displacement pump. The farmer can adjust the settings easily and manually by means of a screw, a valve or a pressure compensator blockage. The option for an electrical switch is also available.
Sophisticated functions, such as opening or closing the front gate and the scraper floor drive, are solved hydraulic-proportionally. The load-sensing principle of the PSL proportional directional spool valve allows for very fine execution of these movements.
HAWE Hydraulik uses directional seated valves for holding functions that require constant pressure. As these valves are leakage-free when closed, they avoid lingering oil losses. This way, support cylinders remain in their intended position, as for example at the tailboard. The directional seated valves are simply flanged on to the proportional valve bank without any need for separate feed-in or discharge lines. This provides a practical solution for manufacturers of silage trailers.
Where the hydraulic functions necessitate varying pressures, switchable load-sensing pressure limiters provide two different pressure levels. The first pressure level remains constant for the input pressure. The pressure of the second level is lowered to match the requirement of the hydraulic consumer.
Depending on the size of the connection block, it is designed for operating pressures of up to 420 bar and maximum volume flows of 100 and/or 200 lpm. As agricultural machines work at operating pressures of around 200 bar, the components' longevity can be safely assumed. Thanks to their modular arrangement, additional functions can be easily added.