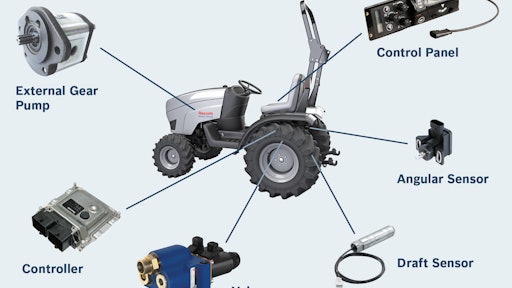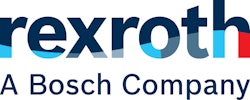 For almost a decade, growing affluence in emerging economies and the boom in renewable raw materials have fueled worldwide demand for agricultural and forestry machines. All indicators point to a continuation of this positive development. Two trends are shaping new machine concepts: Manufacturers are transferring functions previously reserved for the top-range segment to the mid- and low-range segments. This development mirrors the automotive industry: The anti-lock braking system (ABS) was first introduced on large sedan cars. Today it is fitted to almost every compact car. In parallel, pressure continues on manufacturers to maintain stringent exhaust emission limits and lower fuel consumption.
Agritechnica 2013 showed that more and more tractor producers are fitting modern electro-hydraulic solutions previously reserved for the top-range segment to their mid- and low-range models. This applies, for instance, to double-acting electro-hydraulic hitch controls and load-sensing systems. They raise tilling efficiency, increase safety, and reduce fuel consumption and exhaust emissions. Tractor producers are systematically expanding their portfolios to include components and system solutions targeted at the volume market. Manufacturers are now integrating these efficient functions in smaller models.
Electro-hydraulic hitch control for simple tractors
Assemblies are now available for double-acting electro-hydraulic hitch control (EHC) on mid-range tractors. EHC improves tilling and reduces drive wheel slippage. This results in greater operator convenience and efficiency, while achieving lower fuel consumption at the same time. Studies show that suitably equipped tractors show up to 25% less slippage.
Bosch Rexroth has also developed a system solution for electro-hydraulic hitch control geared to the special requirements of emerging markets in the lower power range up to 80 HP, which is the best selling power segment worldwide. Starting 2014 a leading Indian manufacturer will equip serial production tractors with this system for the first time. This EHC variant is designed with extra ruggedness for vehicles without cab and to withstand high dust loads.
Demand-controlled power generation achieves significant benefits when it comes to fuel economy on smaller tractors fitted with higher levels of equipment. Now axial piston variable pumps are available for tractors of 50 hp and higher, permitting the implementation of load-sensing systems. New hydrostatic compact units for travel drives allow the use of modern power-split transmissions in the low horsepower range. The large number of new components and system solutions is accelerating technical progress in all tractor segments.
Further progress requires an overall system review
Vehicle manufacturers are networking mobile hydraulic systems with all other engine-related systems in order to harness the potential for lower fuel consumption, and therefore lower exhaust emissions. On their trade fair booth at Agritechnica, Bosch Rexroth demonstrated the interdependence of these systems on a 1:1 functional model. It shows the large number of components affecting fuel consumption, from the engine, exhaust-gas aftertreatment, and mechanical transmissions for the travel drive, through to the various system and hybrid solutions for the hydraulics.
The individual modules influence each other mutually. Manufacturers can only achieve further progress in fuel economy and lower emissions by reviewing the system as a whole and the mutual dependence between each of the assemblies. To perform this complex task, they are resorting more and more frequently to the expertise of the Bosch Group, which is the only supplier to combine the technology fields of engine electronics, exhaust-gas aftertreatment, and mobile hydraulics under one roof.
At Bosch Rexroth, this expertise is systematically plowed in the development of new solutions and the optimization of existing solutions. As part of the Rexroth 4EE systematic (Rexroth for Energy Efficiency), this translates into Energy System Design – in other words, focusing on actual energy requirements – one of four key levers on which all development activities are based. Another three levers complete the 4EE system to assist manufacturers to optimize efficient energy use in their machines: Efficient Components describes raising efficiency and optimizing energy use with energy-efficient components. Energy Recovery refers to the storage of previously untapped energy for later use. Energy on Demand aims at optimizing demand control by switching off unrequired components to achieve the greatest possible energy savings.