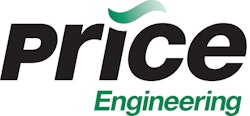 Price Engineering Company Inc., which provides a broad range of engineered and custom products and solutions in the areas of hydraulics and pneumatics, automation, electrical systems, and modular framing announces it has attained ISO 9001:2008 certification for its quality management system. The certification extends to all Price operations and subsidiaries.
The International Organization for Standardization (ISO) publishes the global ISO 9001:2008 standard. Compliance with the standard through the certification process demonstrates Price's adherence to practices and procedures designed to ensure the consistent quality of products and services it delivers. It also signifies the company's commitment to enhancing customer satisfaction through continuous improvement practices.
Price is the only Wisconsin-based company to achieve ISO 9001:2008 certification in its market segment. The company began the rigorous certification process in 2011. It included the development and implementation of a comprehensive and formal quality management system. TÜV SÜD America Inc., located in Peabody, MA, conducted a registration audit of the process and accredited Price's ISO 9001:2008 certification effort. The certification of Price encompasses design, manufacturing, sales, distribution, vendor managed inventory, repair and service of hydraulic and pneumatic components, and systems and hose fabrication.
"We're proud to attain ISO 9001:2008 certification. It represents our ongoing commitment to providing high quality products and services, as well as our dedication to continuous improvement," says Price President Tom Price. "We owe this achievement to our employees who have worked hard to earn the certification and are clearly devoted to delivering customer satisfaction. This is a major achievement that aligns our efforts with customer requirements, which in turn will help fuel our continued growth."