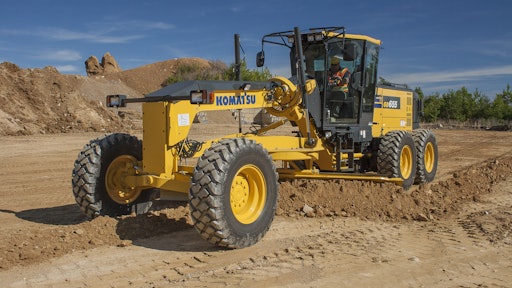 Komatsu America Corp., a leading global heavy equipment manufacturer, announces the introduction of the GD655-6 motor grader.
Featuring 218 net hp (163 kW), the GD655-6 is powered by a Komatsu SAA6D107E-3 engine that is EPA Tier 4 Final emissions certified. This new motor grader leverages Komatsu's nearly 20 years of experience and innovative leadership in emissions technology to deliver a high-performance, more environmentally-friendly engine that burns less fuel and costs less to operate.
Standard features on the GD655-6 include a Turbo II precleaner, independent blade lift float, front mounted work lights and a toolbox with lock. Also standard on the grader are 10 control valves, which means two extra valves with linkage for additional attachments. In addition, the GD655-6 has provisions for ripper and grade control installations.
Work Equipment and Hydraulics
A closed-center, load sensing (CLSS) hydraulic system with a variable displacement pump supplies flow and pressure only when required, resulting in less heat and fuel usage. Direct acting control valves designed and built by Komatsu provide an outstanding operator "feel" and predictable system response. A circle slip clutch for added reliability comes standard, as well as greaseless circle wear plates for extra durability. Improvements to the front frame, circle and draw bar provide increased structural strength and durability.
Efficient Operation
The GD655-6 features Komatsu's dual-mode transmission designed and built specifically for Komatsu motor graders. This drivetrain incorporates a powershift transmission with eight forward speeds and four reverse speeds, coupled to the SAA6D107E-3 engine by both a torque converter and a direct drive lock-up clutch. This design gives operators the best of both worlds: direct drive delivers high travel speeds and lower fuel use, and the torque converter delivers increased tractive effort and fine control at lower speeds. The driveline provides on-the-go, full power shifting as well as inching capabilities and automatic shifting in the higher ranges. Engine stall prevention is controlled electronically and automatically by disengaging the lock-up clutch (switching to torque converter mode) when handling heavy loads.
Thanks to the new Komatsu SAA6D107E-3 engine, owners and operators can expect to burn 5% less fuel in "power mode" and 15% less in "economy mode" compared to the previous model. An auto idle shutdown feature also comes standard. It curbs fuel consumption and service meter reading by turning off the engine after an idle-time interval set by the operator.
The GD655-6 features the longest wheelbase in class with 21 ft. 4 in. for superior grading performance. Despite the long wheelbase, the GD655-6 maintains a turning radius of 24 ft. 3 in.
Komatsu EPA Tier 4 Final Emission Certified Engine – Productive, Dependable, Efficient
Komatsu's EPA Tier 4 Final engines are built on the strength of its proven Tier 4 Interim foundation. By integrating Selective Catalyst Reduction (SCR), the Tier 4 Final engine further reduces NOx emissions using Diesel Exhaust Fluid (DEF).
The Komatsu Tier 4 Final engine uses an advanced electronic control system to manage the airflow rate, fuel injection, combustion parameters and aftertreatment functions to optimize performance, reduce emissions and provide advanced diagnostic capability. The result is lower fuel consumption with no loss of performance. Komatsu continues to use a Komatsu Variable Geometry Turbocharger (KVGT) and an Exhaust Gas Recirculation (EGR) valve for more precise temperature and air management control as well as longer component life.
For product reliability and durability in demanding conditions, Komatsu developed the entire system, including the control software needed to effectively operate the aftertreatment system. This control system is also integrated into the machine's on-board diagnostics systems and KOMTRAX, Komatsu's standard telematics system.
Operator Environment
The large, low profile cab of the GD655-6 provides a comfortable and quiet work environment. The ROPS/FOPS certified, hexagonal cab provides excellent visibility to the work equipment. Operators can tilt the center control console forward or backward to simplify entry and exit. An auxiliary input to connect media devices and two 12V ports also have been added.
A new, high resolution 7-inch LCD monitor offers enhanced capabilities and displays information in multiple languages for global support. Through the monitor, the operator can easily modify settings such as the Auto Idle Shutdown or reversing hydraulic fan, check operational records, such as driving history or fuel/DEF consumption and monitor the Komatsu Diesel Particulate Filter (KDPF). The operator can also view tips for cutting fuel consumption from the ECO Guidance function via the monitor. A rear-view camera with separate 7-inch LCD monitor comes standard and mounts above the front windshield for operator convenience.
Convenient Maintenance and Serviceability
Large, hinged, lockable doors are standard and provide easy access to all daily service check points. The tandem oil check port is conveniently located at the end of the tandem. The battery box and master disconnect switch have been relocated to prevent dust accumulation inside the box. The GD655-6 has ground level fuel and DEF access to make refueling easy. The DEF tank features an external sight gauge to prevent overfill and spillage. The GD655-6 is equipped with a standard reversible cooling fan to purge debris from the coolers. Dust boots have been added to the control valve spools for additional protection from environmental concerns.
The machine is equipped with Komatsu EMMS (Equipment Management Monitoring System), an enhanced diagnostic tool that allows operator and technicians to better monitor, maintain, troubleshoot and repair the machine in less time.
The GD655-6 is also equipped with the latest KOMTRAX remote monitoring technology with data access via the web or via KOMTRAX Mobile on a smart phone. In addition to providing data such as fuel levels, operating hours, location, cautions and maintenance alerts, KOMTRAX now also monitors DEF levels, ambient air temperatures and pressures. A new Operator Identification System reports key information for multiple operators and the Auto Idle Shutdown function improves operating costs by reducing unnecessary idle time.
All Komatsu Tier 4 machines come with Komatsu CARE. Komatsu CARE provides complimentary scheduled maintenance for the first three years or 2,000 hours (whichever comes first.) It also includes a 50-point inspection at each service and two complimentary KDPF exchanges in the first five years. With the introduction of Tier 4 Final, Komatsu Care has been expanded to include SCR-related components.