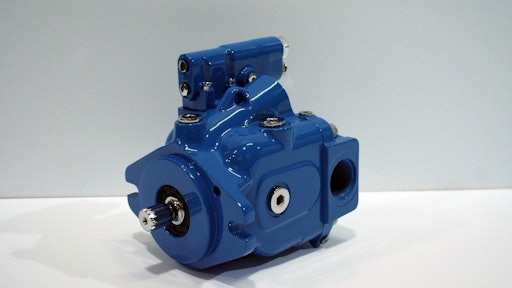 The desire to reduce fuel consumption, emissions and maintenance costs has created a stronger drive for efficiency within the heavy equipment industry. More electronic control, reduced package size and multi-function capabilities are among the methods many component manufacturers, including those in the fluid power industry, employ to achieve this goal.
Often working as part of a larger system, fluid power components are tasked with not only operating efficiently but also providing efficiency benefits for the entire system in which they will be used.
Forward and reverse functionality in a single unit
Released in 2014, the Danfoss reverse displacement motor (RDM, product information, 11543468) provides both forward and reverse functionality without the need for a directional control valve. "We identified a need for reducing the power drain that exists in current reversing fan drives," says John Heller, Product Marketing Manager at Danfoss Power Solutions. "We determined we could meet that need by modifying one of our existing motors."
Instead of having two fixed motors in one package, the RDM provides forward and reverse operation in a single motor which Heller says is capable of operating as efficiently as a non-reversing fan drive. The reversing function of the motor is driven by internal pressure created by an integrated proportional shifting valve, eliminating the need for extra connections such as a directional control valve. "All other motors that we are currently aware of require some type of directional control valve — whether internal, bolted onto the motor or in-line within the hydraulic system — in order to reverse," explains Heller.
Eliminating the need for external valves allows the system to run cooler and reduces power losses for more efficient operation. Heller says that by nature directional control valves create heat in a system, and that even more heat is generated when a motor reverses at a high frequency. This requires typical reverse motor systems to find a way to keep the fluid cool. In addition, the lack of a directional control valve means the engine doesn't have to work as hard because there are fewer passages integrated into the system for which the engine has to provide uniform pressure. "That significantly reduces power losses," he says. The RDM has been shown to provide a 10% power savings, a 15% average reduction in total system cost and reduced system complexity.
Integrating the reversal functionality within the motor ensures a more reliable system, as well as provides a more compact package for space savings and easier integration. "Saving space on the machine is increasingly important as OEMs add components to meet emissions regulations," says Heller. "The Danfoss RDM helps OEMs reduce the number of components and frees up space on their machines."
He adds that the shape of the motor itself is also beneficial because the nose design enables better integration into the fan shroud. "You can direct-mount the fan onto the shaft of this motor, then embed the motor farther into the fan shroud," he says.
To further enhance its benefits, Danfoss announced new options for the RDM in January (learn more, 12033227). These include a speed sensor for more precise system efficiency control and availability of the motor in higher displacements for use in larger machines. There is also a 24V valve option which Heller says enhances the RDM to accommodate additional electronic architectures.
Providing power when needed
Eaton recently announced new inverse proportional pressure control and remote pressure control options for its X20 piston pump, which has been on the market since 2005 (learn more, 12035138). Available in three frame sizes, the pump is compactly designed to fit into tight spaces and features 20% fewer parts than traditional pump designs, says Bob Isaacs, Engineering Manager of New Product Development - Piston Pumps at Eaton Corp. Additional features of the pump include an optimized valve plate design and inlet porting flow path for efficiency and high speed ratings.
The newly added control options are designed to further enhance the efficiency of the systems in which the pump is incorporated. Inverse proportional pressure control (IPPC), for instance, helps reduce fuel use by providing accurate and efficient control only when power is needed. It allows pump pressure to be electronically controlled so that as current increases, the set pressure reduces. Engine power can then be directed where it is most needed to support the vehicle's operating cycle, saving fuel and boosting productivity. "Fuel is saved when power consumption is regulated based on the system need, rather than providing only a set level of power," says Isaacs.
He adds that testing of the IPPC option has shown advantages such as faster response and better control stability which help ensure improved fuel optimization. Common applications include management of fan speed for engine cooling systems. Isaacs says the IPPC option can be used with any vehicle control system with current control, but is particularly suited for use with Eaton's Pro-FX range of CANbus controllers, software and human machine interface products to provide accurate and efficient control of fan power.
The remote pressure control (RPC) option saves fuel by only delivering the pressure a system needs. It works in conjunction with a remote relief valve that can be manually or electronically adjusted when there needs to be a change to the working pressure within a system. "This control provides system designers additional flexibility in pump control and provides the ability to optimize system pressure to specific work modes," says Isaacs.
If dual pressure settings are required for two different work circuits, two parallel relief valves can be used in combination with a two-way valve. RPC is meant for applications in which frequent pressure adjustment is required due to varying load requirements or pump-mounted control is inaccessible or unsuitable for electrical controls.
Companies in this article