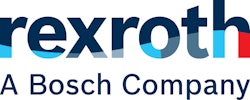 At
MINExpo 2016
, September 26-28 in Las Vegas,
Bosch Rexroth
will showcase many of its most innovative drive and control solutions, and other mining and mineral relevant solutions. The
Bosch Rexroth
booth will also feature a demonstration of virtual reality remote maintenance support complete with virtual reality goggles.
Bosch Rexroth
experts will be on-hand to demonstrate how to achieve greater productivity and increased uptime.
Hägglunds CBM: The most powerful direct drive ever
Based on the tried-and-tested CB platform, the Hägglunds CBM offers 50% more torque, and is up to 50% lighter and smaller than its predecessor. The motor's performance data opens up new possibilities for
users. It can cope with extremely heavy working loads, doesn't take up as much space, and, being 50% lighter, the output shaft has less weight to deal with. What's more, users benefit from the operational advantages offered by a hydraulic direct drive – maximum torque from a standstill, overload protection, and four-quadrant operation.The wide range of sizes and displacements enables optimization of the drive system when selecting the motor and the hydraulic pump combinations. The hole through the motor is another advantage, which can be very useful in applications like drilling and boring. The motor reacts quickly and the heavy-duty design can take shock loads and stop instantly when required. Hägglunds CB is truly a tough, economical and reliable drive.
Virtual remote maintenance
With Hägglunds InSight Live, Bosch Rexroth provides plant operators with a virtual reality solution that enables remote support for their in-house maintenance teams anywhere in the world. With nothing but a rudimentary Internet connection and a smartphone, tablet or laptop, customers can get direct support from Rexroth product and application experts. The InSight Live platform is designed to work with limited bandwidth and mobile connectivity and can provide powerful virtual reality real time support.
GFT 8000 Series Gearboxes
Bosch Rexroth's modular GFT 8000 Series combines two- and three-stage planetary gearboxes with axial piston motors to create an individually customizable drive package for far-traveling mobile working machines. It can be compactly installed in wheel, chain and roller-driven construction machines. When combined with the latest series of Rexroth fixed and variable motors, the drive units achieve around 10% more torque in comparison to the previous series. As a result, machine manufacturers can improve driving performance without changing the installation space or use a smaller size while maintaining the same power. An integrated dynamic disk brake also saves both installation space and weight.
Rineer Vane Motors
The Rineer High Torque Vane Motor was created around the patented vane crossing vane design, a leading-edge concept in fluid power transmission, which allows for low speed/high torque and high speed/high torque. With over 50 displacements combined with a variety of optional features, the Rineer Vane motor is one of the most versatile motors in the world. The motor is a bi-rotational power converter that uses working vanes in the rotating member and sealing vanes in the stationary member. With 10 rotor vanes working in four cavities, the motor provides an uninterrupted output torque regardless of angular position. This equates to 40 power strokes per revolution, delivering higher average torque with low torque ripple.
A6VM Axial Piston Hydraulic Motor
The Rexroth Series 71 of the A6VM axial piston variable hydraulic motor features a higher nominal pressure and power density improved by up to a third. The efficiency of the nine-piston motor is noticeably improved, particularly with small swivel angles. The motor design ensures even smoother operation at very low output speeds over the entire swivel angle range. The nine-piston arrangement provides for less pressure ripple and better start-up response. The ability of the motor to switch to zero position of the motor also allows state of the art drive functions, such as Rexroth traction control (ASC), to be added. The hydraulic motor and the Series 40 A4VG axial piston variable hydraulic pump in closed- circuit operation form an ideal combination for high-torque winch applications.
Visit Bosch Rexroth during MINExpo 2016 at booth 25011 South Hall 1.