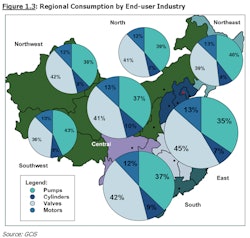 The hydraulic components market in China (target market) is valued at approximately RMB 35 Bn in revenues as of year-end 2011(or RMB 37 Bn when including exports).
This study focuses on domestic sales of the four main hydraulic components used in hydraulic systems. These have been divided into the following product categories: hydraulic pumps, hydraulic cylinders, hydraulic valves and hydraulic motors.
The study is based on a 3-month primary survey performed only by GCiS in China. It includes value-added qualitative analysis, supported by verified quantitative data taken from a sample of around 90 leading participants. Its key findings and conclusions draw on the input of senior industry experts from technical and commercial backgrounds.
For the full 200-page report, contact GCiS Marketing Specialist Gideon Clark at clark.gideon@gcis.com.cn or head online to www.gcis.com.cn