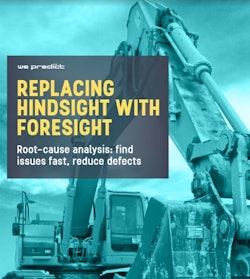 It is imperative that you know the lifetime cost of every machine your company manufactures or operates. Predictive analytics company, We Predict, enables you to do exactly that! Based on millions of actual service records, unplanned repairs, recalls and warranty data, we measure service and warranty costs spent by manufacturers and owners and provide risk scores.
We Predict helps Heavy-duty equipment manufacturers, rental and fleet operators:
Improve customer satisfaction
Cut warranty costs by as much as 25%
Minimize downtime
Understand true cost of ownership
Knowing how to ask the right questions from the data, we uncover the root cause of all claims – the result? Happy customers!
Learn how problems can be spotted faster by downloading this whitepaper where you'll gain first-hand knowledge on how OEMs are benefitting from the We Predict knowledge.