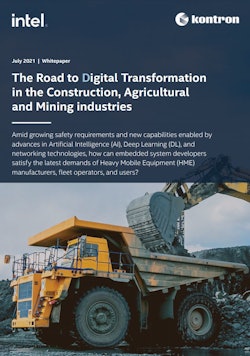 Amid growing safety requirements and new capabilities enabled by advances in Artificial Intelligence (AI), Deep Learning (DL), and networking technologies, how can embedded system developers satisfy the latest demands of Heavy Mobile Equipment (HME) manufacturers, fleet operators, and users?
This whitepaper examines the embedded computing challenges facing systems designers and developers as operators and manufacturers determine the requirements needed to develop next generation intelligent, connected and autonomous vehicles. With these vehicles playing a pivotal role in the ongoing transformation of the construction, agricultural and mining industries, the paper also highlights the emergence of new fit-for purpose platform architecture designed to address today's challenges and future needs for embedded computing.
Download this whitepaper to learn more about the new, secure, innovative compute platform from Kontron powered by Intel technology.