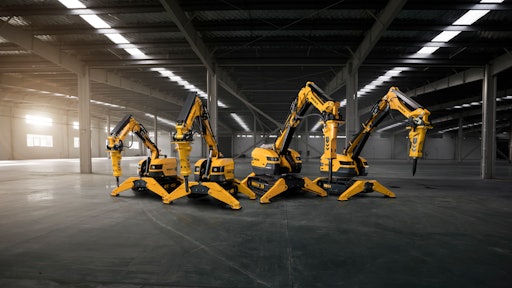 Brokk Inc.
In preparation of the upcoming CONEXPO/CON-AGG and IFPE shows, OEM Off-Highway wanted to know what companies in the construction equipment industry were most looking forward to at the year's biggest show.
Below, Mike Martin, Vice President of Operations at Brokk Inc., provides insight into the technologies and trends the company is looking forward to seeing highlighted during the show.
1.) What are you most looking forward to seeing at this year's CONEXPO-CON/AGG and IFPE shows? Are there any particular technologies or trends you are most looking forward to seeing?
First and foremost, we're looking forward to interacting with attendees. Trade shows like CONEXPO-CON/AGG are a great opportunity for our team to catch up with current customers and share the benefits of remote-controlled demolition equipment with a new audience. The company was founded in 1976, so it's not like we're the new kid on the block or anything. But recent trends in technology and jobsite safety have helped expand contractors' understanding of how robotic and autonomous equipment can benefit their operations, and every CONEXPO-CON/AGG, we have a few new faces stop by the booth to find out what we're up to. We're always developing more versatile machines and attachments, but these shows give us a chance to connect with not just our customers, but the industry as a whole to see what our engineers need to develop to meet tomorrow's demands.
We're especially interested in specialized attachments that can increase versatility and efficiency for our customers. Brokk recently unveiled a new lineup of BHB breakers, perfectly matched to our machines to offer the best possible demolition performance. We also released a series of concrete crushers and an upgraded multi-cutter tool with our sister company, Darda, to increase operator safety and productivity on a variety of tough demolition jobs. Our product line features attachments for pretty much any demolition application, including shears, drum cutters, planers, buckets and more. We're always looking for creative solutions that allow Brokk operators to best use their machines, though, so we will be talking with attendees about what they need to get the job done.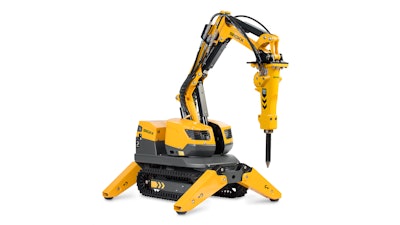 Battery technology is another area we will be interested in during the show. A lot of contractors have found Brokk machines are an ideal solution for enclosed spaces, such as interior demolition, thanks to their compact size and emissions-free operation. The Brokk 70, one of our newest models, for example, weighs just 560 kg (1,234.6 lbs.) and can fit through even the narrowest doorways. The next evolution for demolition equipment is to unplug the machine completely, allowing contractors to maneuver freely around the job site. There have been great strides in battery technology — our own engineers are hard at work on a solution that provides ample power and duration — and it's possible the breakthrough will come with the sharing of ideas that occur at shows like CONEXPO-CON/AGG.
2.) What are the main technologies or trends you're seeing right now in the construction industry?
Electric and battery powered equipment has been trending for a few years now. Smaller machines that can provide the power of much larger equipment have opened up a number of new applications, such as interior and urban demolition, where large, noisy, gas-powered equipment can't operate.
Brokk has been at the forefront of many advances in these areas. Last year we introduced our Next Generation lineup, featuring our signature SmartPower™ technology. SmartPower senses when the power supply is poor or faulty, then compensates before damage to components occurs. This allows contractors to use the machine with generators or unreliable power sources.
3.) How is your company currently viewing the construction industry – is the market seen to be positive, and expected to continue being so into 2020?
2020 is shaping up to be a positive year for our industry and our customers. Here in the United States, increased infrastructure spending across all levels of government has the potential to create a lot of opportunities. A healthy economy has also encouraged new construction and renovation across our area of operation.
The labor shortage is still a concern for many employers, especially in C&D, but automated and remote-controlled solutions, like Brokk, are giving these contractors viable options to keep the work moving forward. Businesses are investing heavily in the right employees and equipment, making sure they have the people and tools to get the job done. We expect the use of autonomous and robotic equipment on job sites around the world to continue to grow as more and more decision makers come to realize the safety and productivity benefits of products like ours.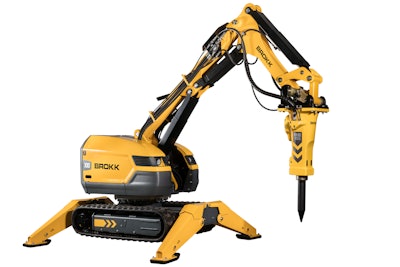 4.) Does your company have any main technology or trends it will be focusing its exhibit on during the show? If so, can you give some insight into what those might be and how they fit in with current trends in the construction industry?
For more than 40 years, Brokk has been dedicated to providing remote-controlled solutions to an ever-evolving demolition industry. Our focus has always been incorporating the best available technology to create reliable machines that increase efficiency and safety across a number of applications. Over the years, the jobsite has changed, and as projects moved indoors and underground, our customers required units with a smaller footprint but just as much power as larger equipment.
The models we are bringing to CONEXPO-CON/AGG are all part of our Next Generation lineup and feature our innovative SmartConcept™ system, which maximizes their capabilities with the power management features of SmartPower, the added reliability and user-friendliness of SmartDesign, and the enhanced ergonomics and productivity of SmartRemote™.
5.) What are some of the key takeaways you hope to get from the 2020 edition of CONEXPO?
Trade shows like CONEXPO-CON/AGG can provide great inspiration and insight. They are an opportunity for our team to touch base with people from across industries to get a better understanding of what's needed and what's to come.