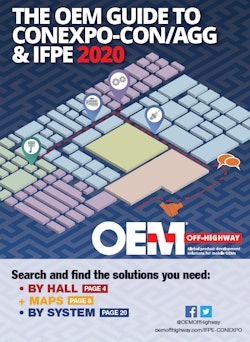 CONEXPO-CON/AGG and IFPE 2020 is the largest international show in the U.S. for the construction industry. As such, it can be particularly challenging for product development teams to traverse the show in search of technology solution providers.
That's why OEM Off-Highway created "The OEM Guide to CONEXPO-CON/AGG & IFPE 2020" — a customized collection of the essential solution providers listed by Hall and by Vehicle System.
Need to find a hydraulic pump for your next project? Turn to the Fluid Power section on pages 22 and 23 to find potential suppliers. Need to get a lay of the land before heading to or while at the show? Turn to the Map Section starting on pg. 8 to find all of the lots and halls containing the most relevant component suppliers to OEM development teams.
A special thanks to all of the supporters of the 2020 guide including:
Ametek/Vehicle Inform. Systems, Booth B91209
B&R Industrial Automation Corp., Booth S83231
Bucher Hydraulics, Booth S82119
Carling Technologies, Booth S85731
Eberspacher Climate Control Systems, Booth B92725
Elliott Manufacturing, Booth C31036
Enovation Controls, Booth S80917
FPT Industrial, Booth B7700
FRABA Inc., Booth, S84147
FSG Sensors Inc., Booth S81655
GRAMMER, Booth S62439
Gits Mfg. Co., Booth

C31036

HED Inc., Booth S82021
MP Filtri USA, Inc., Booth S81542
MTA SpA, Booth B92809
maximatecc, Booth

S84043

NAF Neunkirchener Achsenfabrik AG, Booth S83030
OEM Controls, Booth S81506
Power-Packer North America, Booth

C31036

SIKO Products Inc., Booth S82846
Webasto Thermo & Comfort North America, Inc., Booth S84131
ZTR Control Systems, Booth S63009